A Look Inside The Buyer's Journey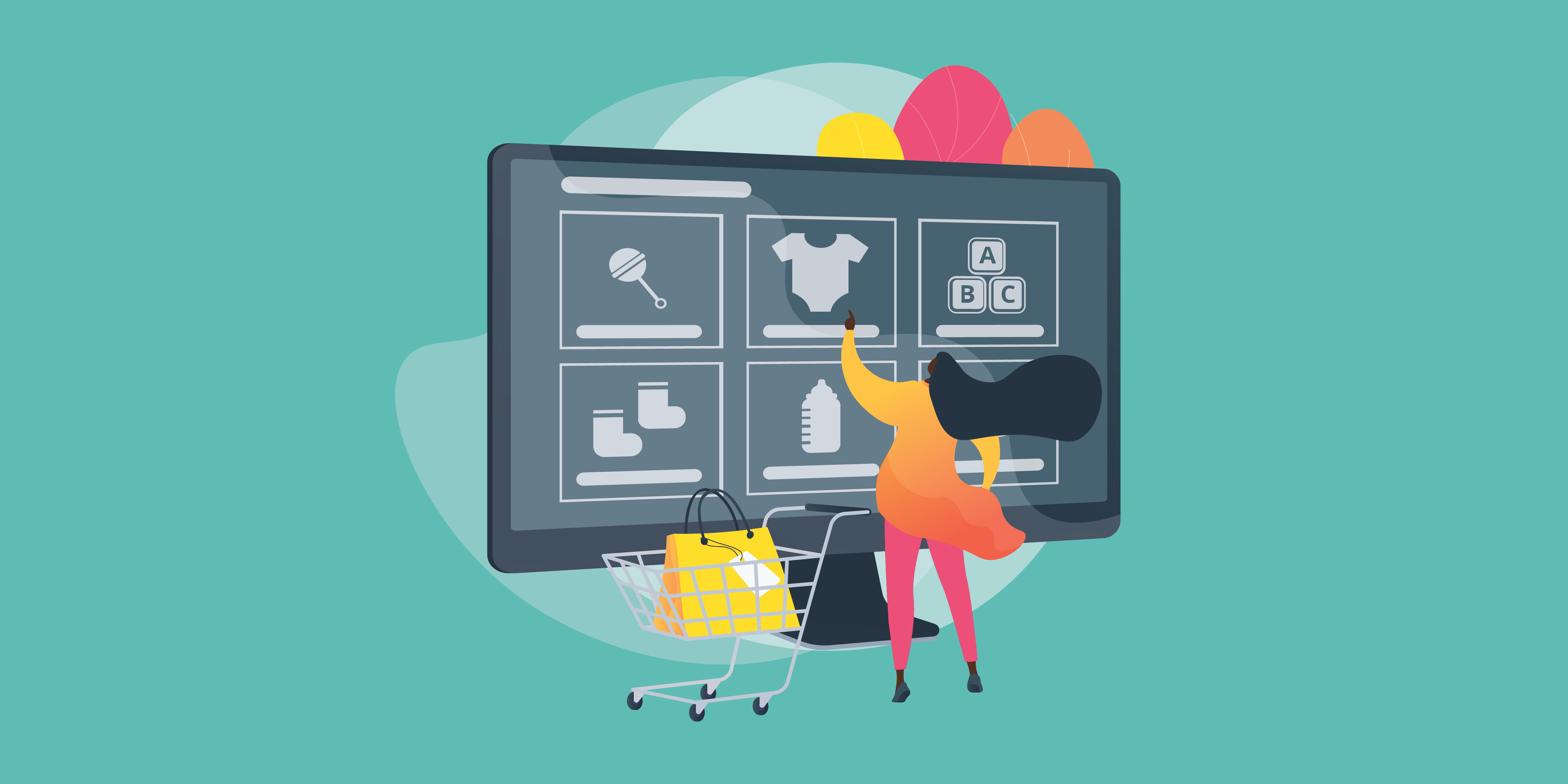 Do us a favor: Think back to the last time you made a major purchase. The odds are that you didn't settle for the first option. You likely considered your needs and pain points, conducted basic research, and narrowed your choices before relinquishing your money.
So, how can we confidently assume this was the path you traveled? Well, the digital age has fundamentally changed how people make purchasing decisions, including everything from razors and eyeglasses to media subscriptions and services to improve their business.
The process of conducting pre-purchase research is an element of what is known as "the buyer's journey" and helps to explain the factors that go into making a purchasing decision.
The buyer's journey is broken down into three stages: awareness, consideration, and decision. All three are essential to understanding how prospects eventually become customers.
After all, studies show that the overwhelming majority of consumers turn to the internet before making an online or in-store purchase, with 87 percent of B2C buyers and 90 percent of B2B buyers starting the purchasing process online.
Although the majority of website visits don't directly translate into sales, businesses would do well to create content tailored to every stage of the buyer's journey. By doing this correctly, companies nurture prospects and build trust, thereby increasing the likelihood that customers purchase something from the company that helped inform them along the way.
Let's embark on a buyer's journey together to see how this works.
Awareness
Say you're a runner, and after your last three long-distance runs, your left knee has started to feel swollen and sore. You even occasionally feel a sharp, localized pain in your knee cap. You realize that you have a problem that needs to be fixed, but you don't know what it is.
You're entering the awareness stage of the buyer's journey, where you're trying to identify the problem.
You might Google "knee pain after run" or "knee swollen after running." From there, you might come across articles like Runner's World's "4 causes of knee pain and how to fix them."
After reading the article, you might conclude that it's educational and that Runner's World is knowledgeable about your problem. They know what you're experiencing, and they can provide data and useful insights into your experience. You relate to what they've written, and you learn more about what's happening to your body during and after your runs. As a result, you're starting to trust them as a resource.
After reading several helpful blogs, you start to get a better idea of what's causing your problem. You suspect it's due to your flat arches, and with that knowledge, you're ready to start looking for solutions.
Now, let's look at this from the content creation side of the buyer's journey.
Imagine you're a marketer for a company that makes specially designed insoles for running shoes. You have the opportunity to create awareness-stage content to draw in the person who is experiencing knee pain. You may be wondering: what benefit could there possibly be if I'm not going to profit? Well, according to a recent consumer survey by Episerver, "92 percent of consumers visit a brand's website for the first time to do something other than make a purchase," underscoring the importance of providing users with valuable information they can walk away with.
Awareness-stage content creates early-in-the-funnel brand recognition (which has an outsized impact on buying decisions) and, depending on the quality of your content, builds trust between you and your prospects.
Despite how difficult it might be, avoid mentioning your product. In this stage, prospects are still trying to diagnose their problem and aren't prepared to be sold. Instead, you could write blogs about common knee pains associated with running, why running is so hard on the body, and how short- and-long-distance running impacts your body differently, among other subjects that might be helpful to a future customer.
Some examples of awareness-stage content:
Blog posts (e.g. "Why You're Getting Knee Pain After Running")
Pillar pages (e.g. "The Ultimate Guide To Running Injuries")
Infographics (e.g. "The 4 Most Common Causes of Knee Pain for Runners")
Social media posts (e.g. tweeting at people who use the key phrase "knee pain after running" to engage with them and start social conversations)
---
Consideration
After reading a glut of information on possible causes of knee pain, you believe that you have runner's knee due to flat arches. Your flat feet cause you to overpronate, and you decide to start researching how to solve the problem. This is the consideration stage of the buyer's journey.
A good example of this is the Runtastic article, "Runner's Knee: How to Prevent Knee Pain." (Runtastic is a running-centric blog run by Adidas, and it's a great example of how a brand creates valuable non-sales oriented content—and therefore trust—with prospects.)
This blog introduces you to several important running techniques that will help prevent injury. Similarly, another blog shows you how to do several stretches specifically meant to help alleviate your pain. A third blog from Running Shoes Guru, titled, "Flat Feet in Runners- All You Need To Know" gives you the idea that you might want to get either insoles or shoes specifically designed for runners with flat feet.
After considering all possible options, you decide that you want running shoes built for overpronators and people with flat feet. You're now ready to figure out where to spend your money.
So if you're that same insole marketer, you want to provide content that will help your prospects identify possible solutions. You might consider writing an eBook that outlines all the doctor- and research-supported stretches and weight-lifting exercises that have been shown to help build long-term strength to help prevent runner's knee.
This signals to prospective customers that you're an expert, are willing to provide helpful content and aren't only interested in selling a product. Most importantly: By indicating to these new prospects that you're interested in helping them, it'll help develop trust and provide them with the knowledge to move them down the funnel as they get closer to making buying decisions.
It's important to note that the consideration stage means that a searcher is not ready to make a purchase and is, in fact, investigating possible solutions to their problem. The goal in the consideration stage is to highlight all possible solutions and eventually pinpoint what solution, not what product, is right for the buyer.
Some examples of consideration-stage content:
How-to videos (e.g. "5 stretches for runners to prevent knee pain")
Ebooks (e.g. "The Ultimate Guide To Injury Prevention")
White papers (e.g. "Runner's Knee And Orthopedic Insoles: Why This Simple Solution Is The Secret To Alleviating Pain And Fixing Your Running Technique")
---
Decision
To address your runner's knee, you've decided you're going to purchase new running shoes specifically built to stabilize your gait, and you've narrowed down your options to three competing companies: Adidas, Brooks Running, and Hoka One One. You have entered the decision stage of the buyer's journey, where you identified what the solution that's best for you, and now you're going to choose what company to give your money to.
You remember how helpful Adidas's Runtastic blog was, so when you stumble upon an article about the best running shoes for flat feet and see that the Adidas Ultra Boost is featured, you decide to read more about that shoe.
You decide to look at product reviews, website FAQs, and demo videos. The Runner's World review calls the new Ultra Boost lightweight, stabilizing, and a worthy contender for people who need more support. The shoe also gets a 9/10 out of more than 4,600 reviews on RunRepeat.
Between Adidas's explanation of how Boost works, a visually pleasing FAQ infographic about the shoe, and the details and specifications on the actual sales page, you decide that you trust Adidas enough to take the plunge. The Ultra Boost 20 is the shoe for you, and you make your purchase.
If you're that insole marketer, your goal is to provide useful content that explains your products. That could be as simple as creating an FAQ that answers questions like: What materials do you use? How does your insole work with different shoe types? What is your return policy? (You can ask both the sales and service teams for the most common questions they receive from customers.)
"They really know what they're talking about" can easily translate into, "They probably apply that knowledge to their products, and if I buy from them, I'll get something high quality."
Some examples of decision-stage content:
FAQs (e.g. "Common questions about our OverPronator Prevention 340 insole")
Demo videos (e.g. "How the OverPronator series works")
Coupons (e.g. 20 percent off your purchase if you buy by 2/27)
---
Evangelists
Remember how much you relied on those product reviews when you were deciding whether or not to buy a pair of Ultra Boosts? Those positive reviews come from evangelists.
In turn, you're so satisfied with your shoes and the subsequent customer service (including a follow-up email after purchase, giving you a link to a product demo) that you tell your friends and decide to leave a product review. You've become an evangelist, a customer who is so satisfied with your purchase that you decide to sing Adidas's praises.
Another prospect in the decision stage of the buyer's journey sees your review ("Problems from flat feet gone after only 2 weeks in these puppies!") and decides to buy their own pair of Ultra Boosts because of you.
If you're the insole marketer, you might create a workflow that triggers when someone purchases your insoles. For example, in one month, the workflow will remind a customer service team member to send a customized follow-up email to check in on your customer. You could also create a user's guide (written, video, or both) to show customers how best to break in their new insoles. Or you could offer coupons to try to get customers to repurchase from you.
While you've already gotten your customers' money, this wouldn't be inbound marketing if you didn't honor how important your customers are. After the buyer's journey is complete, that doesn't mean you stop paying attention or making relevant, helpful content.
Think of evangelists as the secret engine to the buyer's journey, turning the traditional funnel into the inbound flywheel, because they can actually support a prospect's movement through the funnel (think about those positive product reviews) and even bring in new prospects by recommending your product. (Alternatively, detractors can seriously harm your ability to convert prospects into customers, another reason to create post-purchase content and pay attention to your customers.)
Some examples of evangelist-stage content:
User's guides (e.g. "How to Break In Your OverPronator Prevention 340 Insoles")
Customer service (e.g. custom emails and chat capabilities)
Coupons (e.g. 30 percent off for all purchasers who bought six months to one year ago)