Effective Content Marketing Services for B2B Companies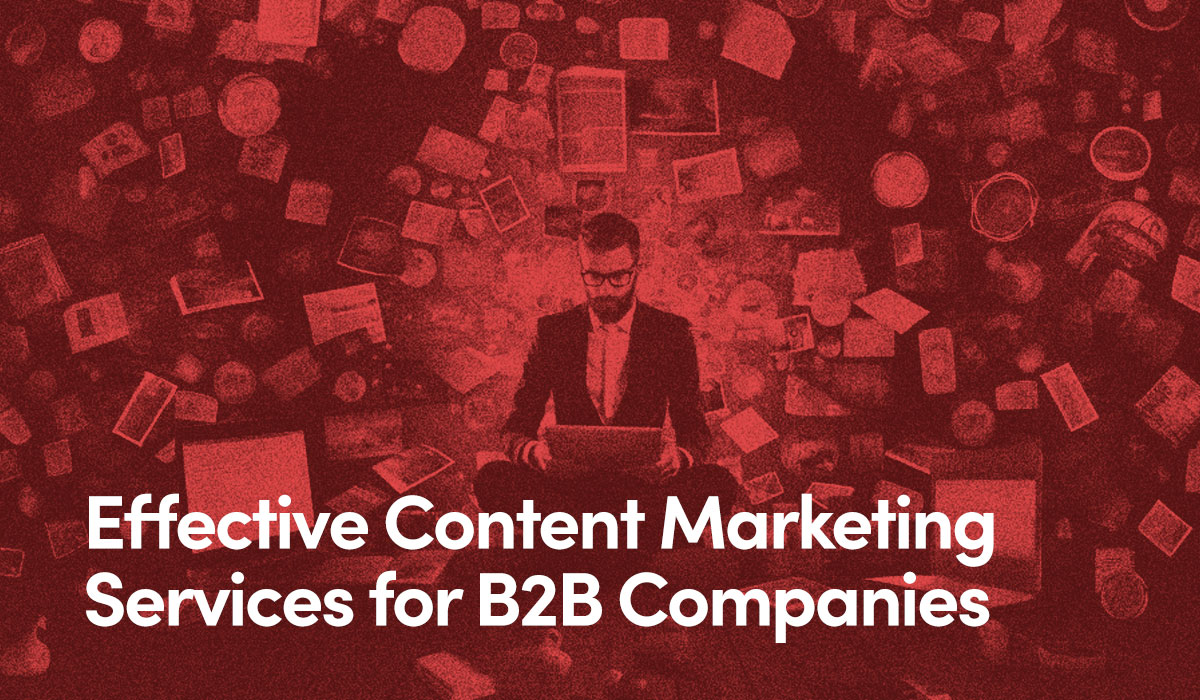 Content marketing is a proven and dependable approach for B2B companies to establish customer trust and cultivate enduring connections.
From increasing website traffic and lead generation to improving conversions, building brand awareness, and providing prospective customers with solutions to specific problems and challenges, there are many benefits to pursuing content marketing for B2B companies.
This philosophy has distinct advantages over other marketing endeavors. Not only does it help drive relevant traffic to your site, it has the power to attract potential leads, retain loyal customers, and equip your top clients with valuable resources for generating referrals.
Discover the power of SEO keyword research, blog development, case studies, email campaigns, and metrics and analytics in this comprehensive guide to effective B2B content marketing strategies.

What Is B2B Content Marketing?
Businesses across various industries face stiff competition for attention and revenue. In a marketplace where consumers increasingly have the upper hand in terms of access to information about everything from product features to pricing, B2B service providers must demonstrate their expertise by providing answers to potential problems or questions when and where the customer needs them. Providing content that legitimately fills these needs and pain points will help establish you as an authority that users can trust to help resolve important issues—the first step in building a budding business relationship.
B2B content marketing refers to highly targeted, well-researched, and expertly crafted content that answers customers' specific questions and solves their problems.
Effective B2B content marketing leverages blogs, landing pages, email sequences and other digital content channels and platforms to provide valuable information and conversion opportunities. This strategy creates a direct avenue for prospects to follow and become long-term customers. Better yet, utilizing the proven inbound methodology championed by marketing and sales platform HubSpot, maximizes a campaign's potential by speaking directly to a user's desires and mindsets throughout the Buyer's Journey.
"When it comes to marketing strategies, I would say that content marketing is way more effective in a B2B setting than a B2C," says Guillaume Delloue, team lead and strategic consultant at HubSpot.
"People who are involved in business are typically looking for experts when they're working with other companies, and the best way to really kind of build that trust and to deliver that expertise is through content," he added.
By providing useful information at the right time, your target audience will learn about your capabilities, and be able to reach an informed decision on whether your products and services are the appropriate solution for their business challenges.
Effective B2B Content Marketing Services
B2B companies are always in a race to capture the attention of their target audience, educate them about complex solutions, and ultimately, nurture leads into loyal customers.
This is where the art and science of content marketing come into play.
"I would say while the fundamentals of content marketing haven't really changed, I think how that content is delivered and the ways people are looking to engage is evolving over time," says HubSpot's Delloue.
Here are some essential elements to consider when developing a successful B2B content marketing strategy:
Strategic Keyword Research for SEO
Conducting keyword research utilizing Semrush or Moz will help identify critical words and phrases relevant to your business and industry. It's also useful to research competitors' websites to discover what's working for them. Once you learn these important terms, you can begin to craft a content plan on how to maximize your findings within the context of your company's product and service offerings and grow organic traffic.
SEO-Driven Blogs & Resource Pillar Pages
Weaponize those keywords and phrases by crafting well-researched and well-written blogs, pillar pages, and other pieces that provide true, meaningful value for prospects and customers. The more thoughtful and helpful the content, the higher the search engines will rank these. One of the goals here is to establish your site and your company as trustworthy authorities in your particular space.
Boosting Your Impact with a Robust Content Management System (CMS)
Ultimately, your website is one of the most important assets for your brand's success, and content management systems (CMS) play a pivotal role in producing and organizing your digital content conveniently and effectively. These software applications handle various back-end tasks, including code management, database queries, and infrastructure, enabling users to easily create, manage, and publish digital content, even without design expertise.
In simple terms, CMS works hand in hand with SEO, helping generate more visitors to your site. It is an invaluable tool in crafting a strong and influential digital footprint.
"Content management systems lower the barrier of entry for content producers," explains Delloue. "Whereas before, you needed some basic kind of coding and technical knowledge, CMS has lowered that bar. Basically, now anybody is able to quickly produce and publish content."
Email Marketing Campaigns Tailored to Your Audience
Ensuring target audiences receive and engage with such meaningful content is another top priority. Be sure to pass along information about special promotions, offers, and deals, as well. This fosters direct communication between prospects and your brand, helping build trust. It's also important to analyze the effectiveness of this correspondence, to see what works and what's a waste of resources. Attain crucial insights via segmentation and A/B testing, and factor them into future campaigns.
Website Pages & Appropriate Calls to Action (CTAs)
Calls to action are vital components of effective content marketing. Be direct and to the point about what you'd like visitors to do. If you're asking for personal information such as a name or contact email, you must prove you're worthy and that doing so will provide them with something meaningful and beneficial. This demands thought and consideration. What do you wish them to do? Why should they? What's the benefit to them?
Leveraging Social Media & Messaging Platforms
While it's important to note that organic social media is an increasingly difficult component of B2B marketing, it may be appropriate for certain types of businesses to continue to publish on these platforms. Crafting messages for company or industry influencers to share on LinkedIn, for example—especially if they're related to an upcoming event or piece of research from your firm—can be a highly effective tool for establishing brand awareness and expertise.
In some cases, it may be just as effective to simply start a conversation or host a curated space for organic interactions between customers and prospects.
Delloue referenced messaging apps such as WhatsApp, Slack, Discord, and Twitch as good models for engaging spaces where people can submit ideas and have meaningful conversations on a given topic. These forums provide an invaluable source of user-generated content and can contribute to a greater sense of community and brand loyalty.
Video
Including video elements in your content campaigns accomplishes several key objectives. Video adds depth. It catches potential customers' eyes. It's also a popular medium for those looking to learn about a company, products, and services.
Streamlined footage of your operations at work or brief interviews with team members and satisfied clients and customers speak volumes, and truly resonate with viewers. It's multi-sensory, as opposed to a standard email or blog post. Video additionally increases time on site, and can also be clipped for social media platforms—further spreading the word about your business, and reaching more prospective customers. Who knows—they might even go viral!
Relevant Content Offers on Landing Pages
Including specific instructions about claiming a relevant offer or discount, participating in an upcoming event, or benefiting from another promotion via a designated webpage helps prospects move further along in their purchase journey. This is one way you can direct prospects to your landing page.
Research Reports & Ebooks
While consumers have become wary of providing contact information in return for gated content, the key to a successful white paper, ebook, or research report is to provide value. For B2B marketers, this offers the opportunity to create industry-specific reports, ebooks about solutions to specific pain points, or white papers on future trends within a specific space. The more targeted and focused your content is to your readers, the more likely they will be to engage with it.
Podcasts
Podcasts are an increasingly popular and cost-effective means for businesses to produce informative and engaging content. Highly accessible and offering a range of marketing benefits, podcasts can improve lead generation, promote awareness, reinforce relationships with existing customers, and foster a sense of community around your brand. Moreover, the episodic structure inherent to podcasts helps to establish a consistent connection with your audience.
Case Studies
Case studies offer real-world results from satisfied customers, providing useful data and reviews that can help instill confidence that others can achieve similar outcomes. They serve as efficient, scalable marketing assets that are incredibly beneficial in proving your value proposition to potential buyers. Case studies provide a clear path down the sales funnel, guiding prospects toward the next steps and prompting them to consider how your products or services can address their pain points.
Tracking and Analyzing Engagement Data
Tracking the results of your content marketing efforts is essential for long-term success, especially for B2B companies. Monitoring the appropriate key performance indicators (KPIs) for each of your campaigns can help you find areas in your strategy that need work, identify additional conversion or engagement opportunities, and track how your targeted content channels interact with each other to reinforce your messaging.
The most important KPIs for B2B companies may vary depending on their specific industry or campaign goals, but some of the most effective metrics include:
Average Monthly Website Visits
Average Session Duration
Bounce Rate
Page Views
Average Time on Page
Traffic Sources
Search Engine Rankings
Open Rate
Click-Through-Rate (CTR)
Conversion Rate
Hypha Hubspot Development: B2B Content Marketing Experts
As you can see, no two B2B content marketing campaigns are the same—all feature different elements that should be tailored to the needs and preferences of the audience you are hoping to reach. To ensure the best results, enlist the expertise and services of an experienced and knowledgeable team with proven results, such as Hypha Hubspot Development.
Hypha is a New York-based HubSpot Partner Agency specializing in B2B inbound content marketing, web design, digital accessibility, and sales enablement.
Contact the Hypha team today to start creating the ideal B2B marketing strategy for your business.
---
- With Daine Taylor
This post was originally published in November 2022 and was updated in September 2023