Empower Your Business Growth with the Comprehensive Power of HubSpot's Inbound Marketing Software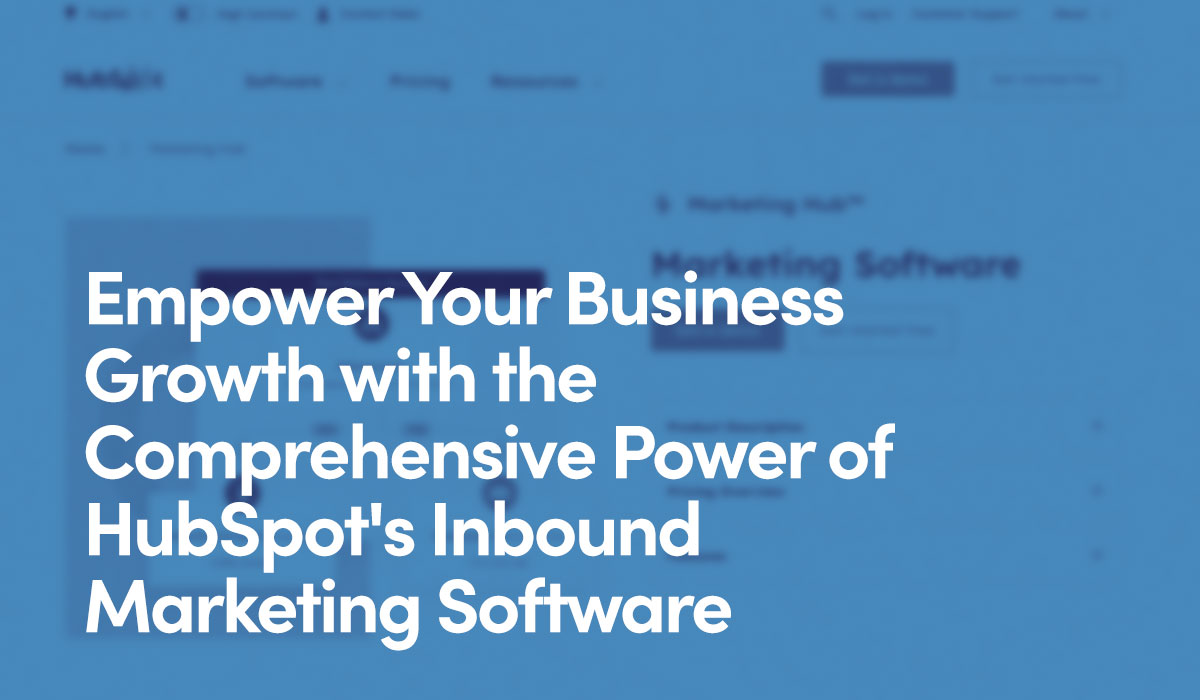 HubSpot's dynamic inbound marketing software is your end-to-end solution for launching effective campaigns, expanding your traffic footprint, and nailing down promising leads. All this, encased in a user-friendly, integrative platform.
Regardless of your business's size, from budding start-ups to industry behemoths, HubSpot's extensive suite of tools and functions offers transformational potential.
"Whether you're a smaller startup or an enterprise-level company, HubSpot's suite of Marketing tools can take a team's lead generation to the next level," says Kevin Campbell, Hypha Platform Specialist. "With tools like 'Smart Content' and 'Personalization Tokens,' marketers can turn a website visitor's journey from a 'digital scavenger hunt' into a tailor-made 'white glove' experience, creating educated buyers who are ready to engage with you and your team."
Let's explore why the Marketing Hub stands apart.
Master the SEO Landscape
Capitalize on HubSpot's advanced SEO tool to infuse potency into your content and strategize your way toward increased web traffic. Design campaigns with clear goals in mind and monitor your website's performance in real time.
Transform Visitors into Leads
Craft compelling landing pages, interactive forms, and personalized CTAs, alongside running A/B tests to boost conversion rates. Engage with your visitors in a humanized manner using HubSpot's free, interactive live chat feature.
Propel Leads into Customers
Leverage HubSpot's efficient workflows and its flexible email builder to dispatch personalized emails to leads, driving them further down the sales funnel.
Trace Your Customers' Journey
HubSpot CRM offers easy tracking of customer activities, enabling you to connect the dots, derive actionable insights, and provide your clients with comprehensive reports.
Streamline Your Team's Workflow
Unite your teams under a single, productive umbrella by providing them with appropriate access to the marketing tools they need, thus enhancing operational efficiency. Whether you're working without a developer or have one at hand, HubSpot's robust, user-friendly platform enables easy customization of features and modules for your marketing team.
Accelerating Success with the Marketing Hub
Fueling your business's growth and profitability, HubSpot's Marketing Hub is your go-to solution for creating a monumental digital impact. From boosting your website traffic to sealing the deal with prospective clients, the Marketing Hub is the secret sauce for achieving outstanding results.
Boost Traffic
Leverage HubSpot's content strategy tool to identify key topics relevant to your customers. Integrate SEO, blogging, social media, and ad tools to guide users to your content and disseminate it across diverse channels.
Convert More
Make the most of the responsive templates from HubSpot's library to build conversion-oriented landing pages. Infuse your landing pages with forms, CTAs, and videos to captivate your visitors. Deploy smart modules to deliver bespoke content to your leads.
Seal the Deal
Use live chat to connect with users in real time, guiding them to the right resources on your marketing team. Harness HubSpot's comprehensive workflow tool to schedule and personalize emails to your liking. Integrate the Marketing Software with the HubSpot CRM to efficiently track leads and deliver custom content through smart lists.
Enchant Your Customers
Transform your customers into brand evangelists who add value to your company. With marketing automation tools and social media monitors, stay in tune with your customers' sentiments and feedback.
Standout Features of the Marketing Hub
This all-in-one inbound marketing software empowers your team to create impactful blog content, landing pages, emails, workflows, and more. Transform leads into loyal customers and monitor their journey through the sales funnel—all within one unified platform!
Blogging Reinvented
Create and publish finely-tuned content with HubSpot's blogging tool. Enjoy hassle-free formatting and SEO optimization. Get comprehensive insights on areas of improvement, including title length, meta descriptions, links, image tags, and more. Contrasting with platforms like WordPress, where you have to download an SEO plugin, HubSpot integrates everything within the blog, allowing you to create, optimize, and publish all under one roof.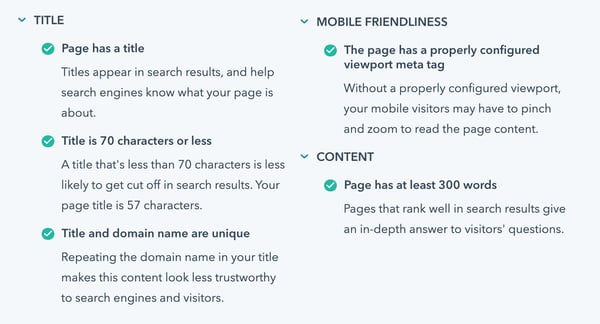 Blog Optimization Tool
Landing Pages
Craft incredibly responsive landing pages with HubSpot's drag-and-drop builder. Incorporate interactive modules like forms and images, and present intelligent content that resonates with your audience. Drive superior lead conversions through carefully designed landing pages that draw your audience in.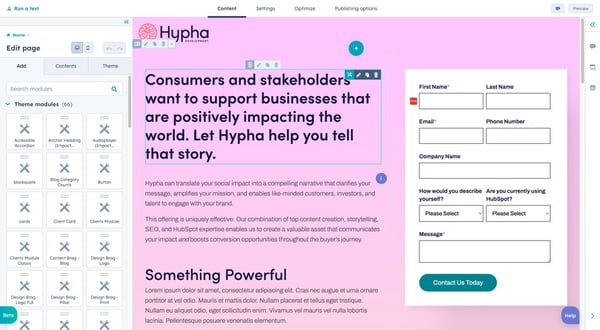 Landing Page
Emails Made Easy
If you've ever navigated through Mailchimp, ConstantContact, or similar email platforms, you'll find HubSpot's email tool a delightful walk in the park. Construct amazing, responsive emails using the drag-and-drop builder, either from scratch or leveraging HubSpot's versatile templates. Personalize your subject lines, craft compelling email content, and run A/B tests for optimizing results. Just as with all HubSpot tools, receive comprehensive tips on fine-tuning your emails, from the drafting stage to hitting 'send.'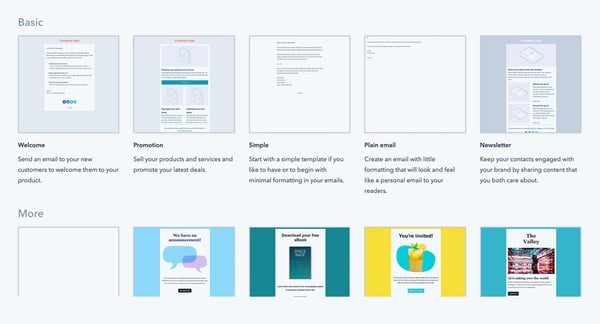 Email Templates
Marketing Automation
HubSpot's marketing automation function empowers you to build anything from simple to intricate workflows for emails, ebooks, content offers, and more. By harnessing if/then branches, delay tactics, and more, you can precisely tailor your workflows and automate your marketing. This leaves you more bandwidth to seize other marketing opportunities.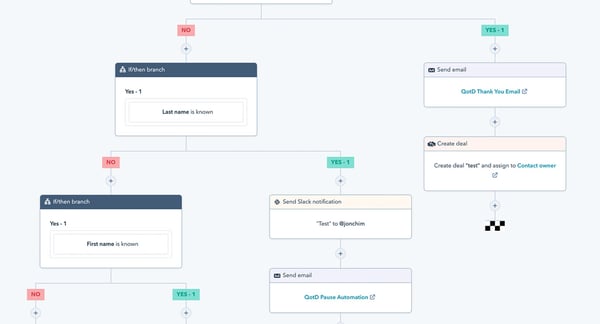 Workflow Tool
Lead Management Simplified
With the HubSpot CRM, you gain access to valuable information on specific contacts—from the pages they visited, and the CTAs they interacted with, to the emails they opened. Use these insights to send hyper-personalized content, enroll your leads into workflows, and ultimately convert them into dedicated customers.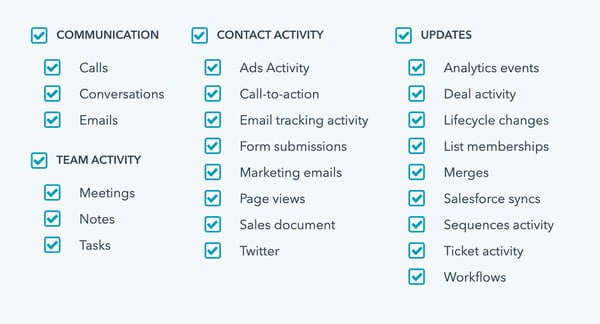 Contact Activity Filters
Analytics that Matter
Leverage HubSpot's analytics tools to keep tabs on your website performance, campaign outcomes, and form conversions. Uncover the channels that drive your traffic—be it organic, direct, or via social media. With HubSpot's traffic analytics, track your website, landing pages, and blogs' performance. These potent analytics tools provide profound insights that help optimize your website and catalyze business growth.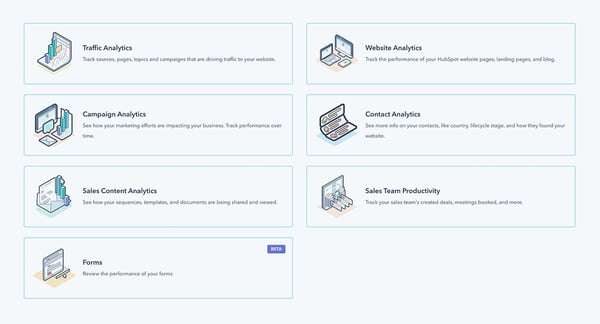 Analytics Tools
Social Media Integration
Schedule, publish, and monitor your social media posts without having to log into multiple accounts. Keep an eye on mentions, interactions, new followers, and more.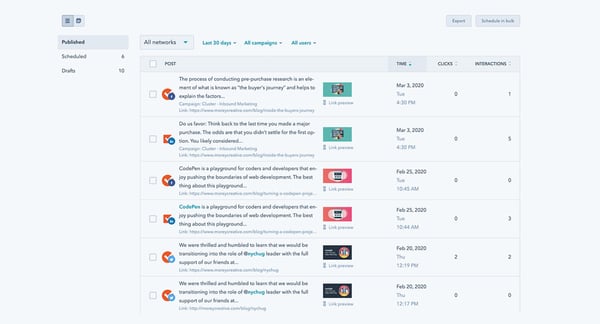 Social Media Sharing Tool
Unleash SEO Power
Boost your website pages, landing pages, and blog posts' visibility with HubSpot's SEO feature. Receive real-time tips on optimizing everything from your title tag to meta description and image alt tags. You can publish content without a shred of doubt about its optimization.
Plan and organize your content using HubSpot's topic cluster tool, which suggests relevant and trending topics. Integrated with Google Search Console, it grants access to monthly search data. Plus, you can discover related content directly within the tool.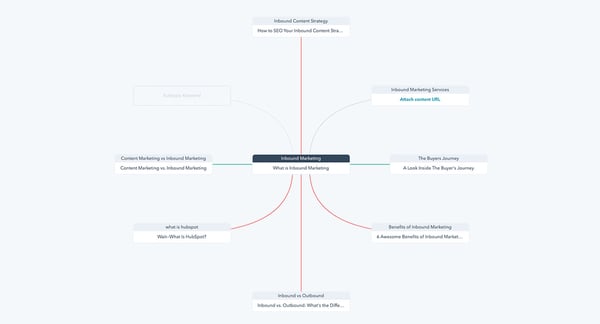 SEO Tool
Captivating Calls-to-Action
Create high-conversion CTAs without needing to code. HubSpot offers an array of button and link styles, along with smart versions and multi-testing, to discover the most impactful options. Implement CTAs throughout your website, or on external sites, to efficiently track your visitors' engagement.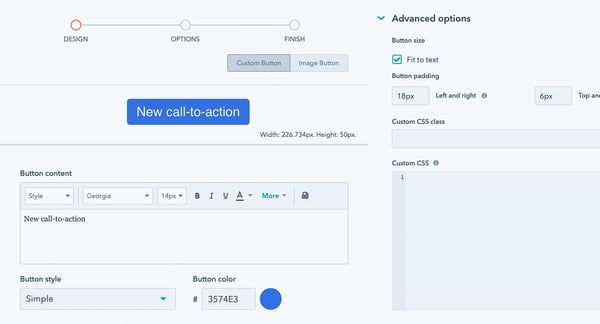 CTA Builder
Supercharge Your Ads
Amplify your marketing efforts with paid ads. Monitor the progress of your Facebook, LinkedIn, or Google ads right from the HubSpot platform. A mere few clicks is all it takes to integrate, enabling you to create ad campaigns within the platform itself.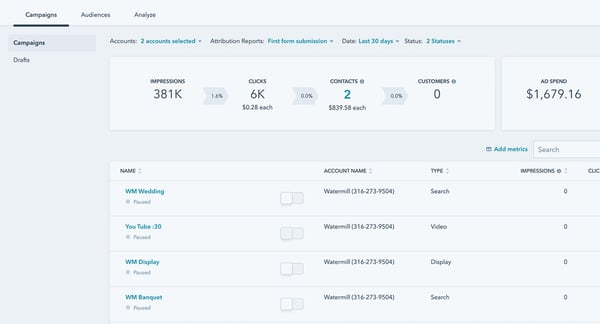 Ads Tool


Why You Should Build Your Website on the HubSpot CMS
Dive into HubSpot's Marketing Hub Pricing Options

HubSpot's Marketing Hub presents three tailored pricing tiers: Starter, Professional, and Enterprise. Each tier is strategically designed to offer an array of potent tools and features suitable for different levels of business needs. For a more granular breakdown of the features each tier provides, we invite you to explore the HubSpot Pricing page.
Starter Tier: This is your gateway to the world of HubSpot's functionalities. It combines

HubSpot's free tools and CRM

with a host of additional extraordinary tools primed to kickstart your business's growth journey.
Professional Tier: When you're ready to upgrade your marketing game, the Professional tier welcomes you with advanced features. This includes powerful marketing automation, the ability to deliver personalized content, innovative blogging tools, and so much more to skyrocket your brand's digital presence.
Enterprise Tier: Reserved for those who require the utmost in features and flexibility. The Enterprise tier offers a CMS membership, allowing for comprehensive management of up to 200 teams—an ideal solution for larger, complex organizations.
Embark on your journey of business growth with the HubSpot platform today!
Hypha HubSpot Development: Your Perfect HubSpot Partner
Build and optimize your website on the HubSpot platform with Hypha HubSpot Development. As a trusted HubSpot partner, we're equipped to assist you every step of the way. Reach out to us for a complimentary assessment, or explore our pricing page for further information on our tailored solutions.
Let's create a lasting digital footprint together!