Marketing & Tech Solutions For Healthcare Providers
The healthcare sector has never been more competitive, or more complex than it is today.
Patients are savvier than ever before, more likely to comparison shop for care providers, and have high expectations around every aspect of the patient experience.
At the same time, providers are busier than ever, presenting major challenges for marketers seeking to get and hold their attention.
Whether you're seeking to optimize your healthcare facility's workflows and tech stack–all while remaining HIPAA compliant–or looking to reach HCPs with the right message at the right time, Hypha is here to help.
Connect with us today to learn more about how we can help you:
Get found by patients who need your services
Streamline your facility's processes, from appointments and reminders to contact management
Target healthcare providers with relevant, compelling offers
"From web design to blogging, the Hypha team has been instrumental in our digital marketing growth. The team is diligent about constant updates to our site, providing us with fresh content, to improve search and our overall patient/client outreach process. Not only do they help to define and devise the strategy (in our case, pillars represented by various disease processes), but they're also experts at follow-through, to maximize results."
"Always helpful and quick to resolve issues! Hypha has been great to work with. Would recommend Hypha HubSpot Development to anyone looking to improve their business."
"The team at Hypha HubSpot Development has been an incredible value add to our company. From day one they have driven our marketing productivity by being exceptionally collaborative and taking a genuine and active interest in our growth and success. Each part of the team works seamlessly with us through fantastic and timely communication and superb design work to become an integrated partner - truly an extension of who we are and what we're looking to represent. We are extremely pleased with our progress and are excited to fulfill our roadmap together."
"Hypha's team have been providing all marketing efforts over the past couple of years, including a newly built modern, user-friendly, beautiful website! All of the team players are pleasantly friendly and knowledgeable of the fast moving marketing trends. I have seen a significant increase in phone calls and web inquires since working with Hypha HubSpot Development."
Hypha HubSpot Development has proven success in the healthcare industry.
Experience
A HubSpot partner for 8+ years, Hypha has built, migrated to and integrated dozens of healthcare sites with the HubSpot platform.
Our team of strategists, content specialists, designers, developers and account directors can handle almost any challenge, from a new site build to integrating every piece of your tech stack, freeing your team up to spend more time providing critical care for your patients.
Compliance
The Hypha team exclusively works on the HubSpot platform. Its dedicated, best-in-class security program offers standard SSL, GDPR and CCPA Compliance, SOC 2 Type 2 and SOC 3 reports, as well as robust integrations into HIPAA compliant patient management systems.
Hear HubSpot's leaders give a high-level overview of the "end-to-end approach HubSpot takes to data security, privacy, and controls."
Full-Funnel Expertise
Our suite of services is designed to facilitate growth, whether your entire business runs on HubSpot, or just a part of it.
Our award-winning team is equipped to support healthcare marketing across the entire customer journey–from driving awareness to conversions and retention. Our data-driven strategies help you attract your desired audience, convert them to leads, close them into customers, and retain them for the long-haul.
Hypha's Healthcare Expertise: Real World Examples
No two healthcare organizations are alike, which is why we tailor our solutions to your specific needs. The following examples demonstrate the impact our team has had for a range of clients in the healthcare space, over different periods of time.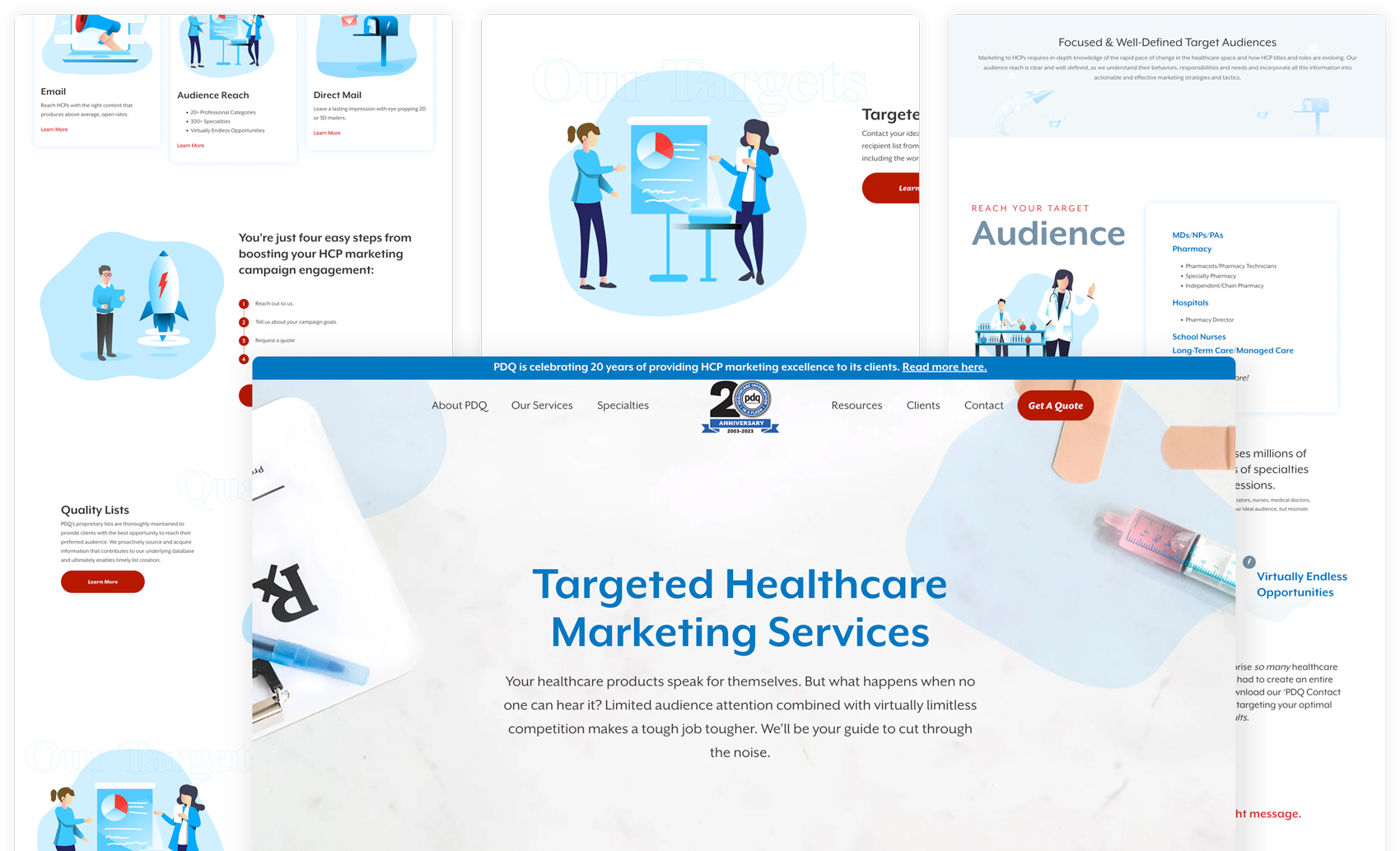 Healthcare Marketing Case Study
Learn how Hypha HubSpot Development significantly increased our client's keyword rankings, website traffic and new contacts year over year.
Visit The Case Study
Relieving the Locum Tenens Pain Point
Hypha has worked with a number of healthtech firms specializing in matching medical and dental facilities with highly trained, temporary staff.
Helping Dentists Fill the Gaps
A provider of dental staffing solutions worked with Hypha's HubSpot development team to design and implement robust lead tracking and routing systems for both dental offices and temporary employees--including dentists, hygienists and dental nurses. This enabled the company to scale its operations from a handful of states to a genuine national presence.
Prescribing Success in Healthcare Staffing
A proprietary digital platform for sourcing, contacting and booking temporary medical staff engaged Hypha to help it grow. Our team designed and executed a comprehensive marketing plant targeting key staffing decision makers by segment, resulting in strong lead growth for our client, and improved patient care and ability to plan staffing needs for a number of large regional healthcare systems that adopted it.