Leveraging HubSpot Service Hub for Your Business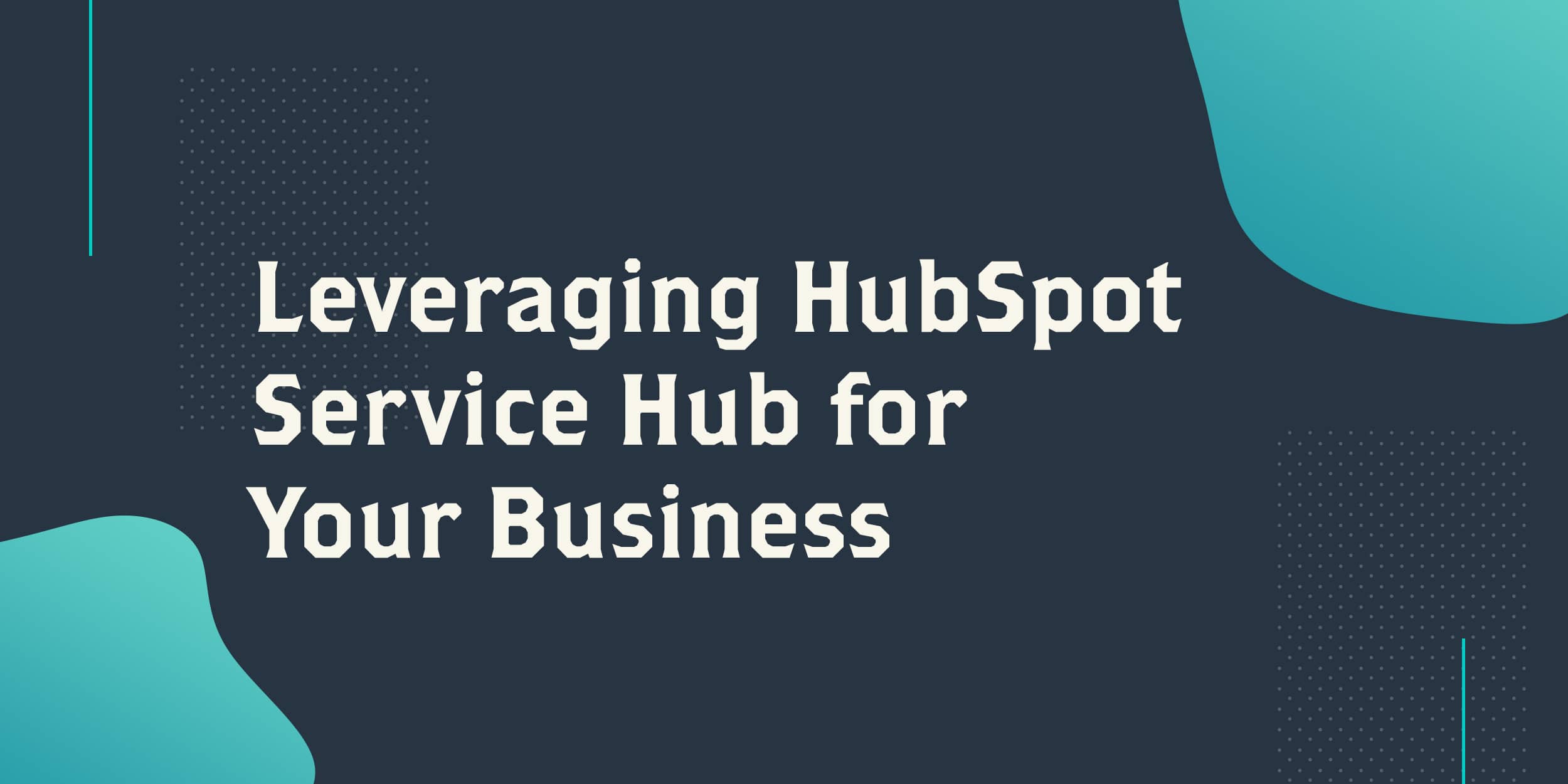 As you likely know, the buyer's journey entails several stages along the path to making a purchase: awareness, consideration, and decision. Successful marketing strategies aspire to attract, engage, and delight them throughout this quest, and ultimately, transform these consumers into prospects, customers, and evangelists.
Whether you're a small business owner without a dedicated service team or an enterprise company with a multi-person department, ensuring exceptional engagement at every stage can be difficult. It's especially overwhelming in today's fast-paced society, where customers expect instantaneous solutions and 24/7 support services through phone, email, text, and online chat.
To underscore the importance of providing unparalleled customer service at a faster pace than ever before, here's some data from HubSpot Research:
90% of consumers rate an "immediate" response as important/very important when they have a support question.
82% of consumers rate an "immediate" response as important/very important when they have a marketing or sales question.
Most consumers define "immediate" as 30 minutes or less.
90% of consumers are more likely to purchase more, and 93% are more likely to be repeat customers at companies with excellent customer service.
77% of consumers share positive experiences with friends and family on social media or through site reviews.


That's why HubSpot developed Service Hub—one piece of its CRM platform, which includes CMS Hub, Marketing Hub, Sales Hub, and most recently, Operations Hub. Officially rolled out in 2018, HubSpot describes Service Hub as "an all-in-one customer service system that changes the way growing businesses approach and deliver customer support."
How can you leverage Service Hub for your business? It compiles all of your customer service data in one place, so you can seamlessly onboard, support, retain, and grow your customer base, resulting in happier customers throughout the journey.
Here is a rundown of Service Hub's many features:
Contact Management
Ticketing
Live Chat
Team Email
Tickets Closed Reports
Reporting Dashboard
Shared Inbox
Conversation Routing
Simple Ticket Automation
Multiple Ticket Pipelines
Multiple Currencies
Calling SDK
Help Desk Automation
Knowledge Base
Logged-In Visitor Identification
Customer Feedback Surveys
1:1 Video Messaging
Goals
Playbooks
Single Sign-On
User Roles
Team Management
Conversation Intelligence


Service Hub is structured with the support team and customer service representatives in mind.
Support
With Service Hub, the support team can cut down on tedious data entry tasks and increase one-to-one customer interactions. Empowered by automation and self-service technology, support teams can provide quick answers to common customer questions, build customer relationships, and implement positive changes to the customer experience.
Customer Service
Customer service representatives now have the opportunity to easily onboard clients, connect and organize teams, and collaborate with customers. Service Hub also enables customer service personnel to deepen the client relationship by providing valuable insights through forecasting and customer feedback surveys.
Conversation Tools That Create Connections
To ensure you deliver information and answers to your customers in a timely manner, set up live chat pop-ups or interactive bots. With live chat, customer service reps or support teams can personalize solutions to customers' needs. All conversations are automatically saved and stored within the conversations inbox and on a contact's timeline, so anyone on the team can open the contact record and learn an issue's history.
If your website is receiving more inquiries than your team can handle, it's time to set up a chatbot, which enables unlimited conversations. It can assist with qualifying leads, booking meetings, providing answers to frequently asked questions, and much more.
Personalization is key—especially when it comes to customer service and support. Service Hub offers a 1:1 video messaging feature that enables sales and support personnel to record and send videos via email or tickets. In the video, the representative can walk a customer through any problem within minutes.
Today, every business operates multiple channels to communicate with its customers, including email, text, social media, and more. With so many outlets, it can be difficult to keep track of every prospect, the stages of their journeys, prior conversations, and previous issues.
That's where Service Hub's shared inbox comes in handy. All conversations remain in one, easily accessible location, eliminating siloed discussions and less-than-great customer service. Your entire team can view, manage, and reply to all conversations across every messaging channel, including email, live chat, Facebook Messenger, and more.
Organization, Automation & Management Essentials
Similar to a singular inbox, Service Hub features a unified help desk to ensure ticket management and organization. With this, it will be difficult for a customer issue to slip through the cracks. Record, organize, and track all of your customers' issues in a single dashboard. Plus, anyone on your customer support team can access it. Everyone can check the status of the ticket, where it is in the queue, ticket volume, or agent response time. This also reduces the need for manual data entry, ensuring your team can spend more time assisting customers.
Eliminate manual processes so you can focus on making your customers happy. Through HubSpot's automated customer service features, teams can connect data across departments, integrate apps such as Jira and Slack, collaborate with coworkers, ensure the highest-priority tickets are resolved first, streamline customer feedback, and provide an overall delightful human—not digital—experience.
The entire Service Hub is backed by the powerful HubSpot CRM platform, which automatically tracks every customer detail and interaction. It offers contact deal and task management, email tracking and engagement notifications, email templates and scheduling, document sharing, meeting scheduling, live chat, and sales quotes.
Service Hub's team management capabilities ensure every user has access to the right assets. This ensures greater organization and efficiency. User permissions help reduce redundancies and minimize the chances of costly mistakes. This enhanced communication also improves coordination between multiple teams, such as marketing and sales—bolstering productivity across silos.
Help customers help themselves. Develop a resource full of articles, videos, ebooks, one-sheets, and other collateral documents to answer all frequently asked support questions. Your customers will easily find the answers they're looking for with a quick Google search or browse through your library—and your support team will spend less time answering repetitive questions. Detailed analytics tell you exactly what customers are searching, identifying gaps in your knowledge base and informing future content.
Data & Reporting Assistance
HubSpot's unique conversation AI automatically takes notes during team calls, providing hours of valuable voice data and insights into customer conversations. Identifying coaching and education opportunities, pinpointing problematic issues or topics, and analyzing trends to incorporate into future sales strategies are just some of the many associated benefits.
Easily access actionable insights and data directly from the reporting dashboard. This connects CRM contact, company, deal data, alongside marketing, sales, and service data for incredibly comprehensive—and customized—reporting.
What's better than customer feedback? Nothing. That's why Service Hub's customer feedback survey software is a critical tool for every business. Create and share surveys through email and your website to determine how your customers truly feel about their experiences. Choose from a variety of survey options, including Net Promoter Score, Customer Effort Score, or a customer satisfaction survey. Survey data can help you change aspects of your company to provide a better customer experience, leaving them delighted.
Get Started With Service Hub
HubSpot offers a variety of Service Hub options at various price points to fit every company's budget. Service Hub is a low-cost, low-commitment way for organizations to leverage the inbound marketing and sales enablement platform to nurture customer relationships. Engage and grow your customer base with Service Hub Free, Starter, Professional, or Enterprise.
The completely free option enables you to take advantage of key features such as contact management, ticketing, live chat, team email, tickets closed reports, the reporting dashboard, and shared inbox. Starter, Professional, and Enterprise build off the free version, adding tools such as conversation routing, ticket automation, knowledge base, help desk automation, goals, and conversation intelligence.
Find out how you can partner with Morey Creative Studios today to help create a seamless customer experience. Reach out for a free assessment, or visit our pricing page for more information.