Sam Tell
For more than 60 years, Sam Tell has been at the forefront of the restaurant industry. From crafting innovative kitchen designs to supplying top-notch equipment, and from providing the best cutlery to having a dedicated team for installations, they've established themselves as the complete package in the world of foodservice solutions—particularly in the New York metropolitan area. Their seasoned salesforce and meticulous design department have ensured that restaurants, big and small, always find what they need.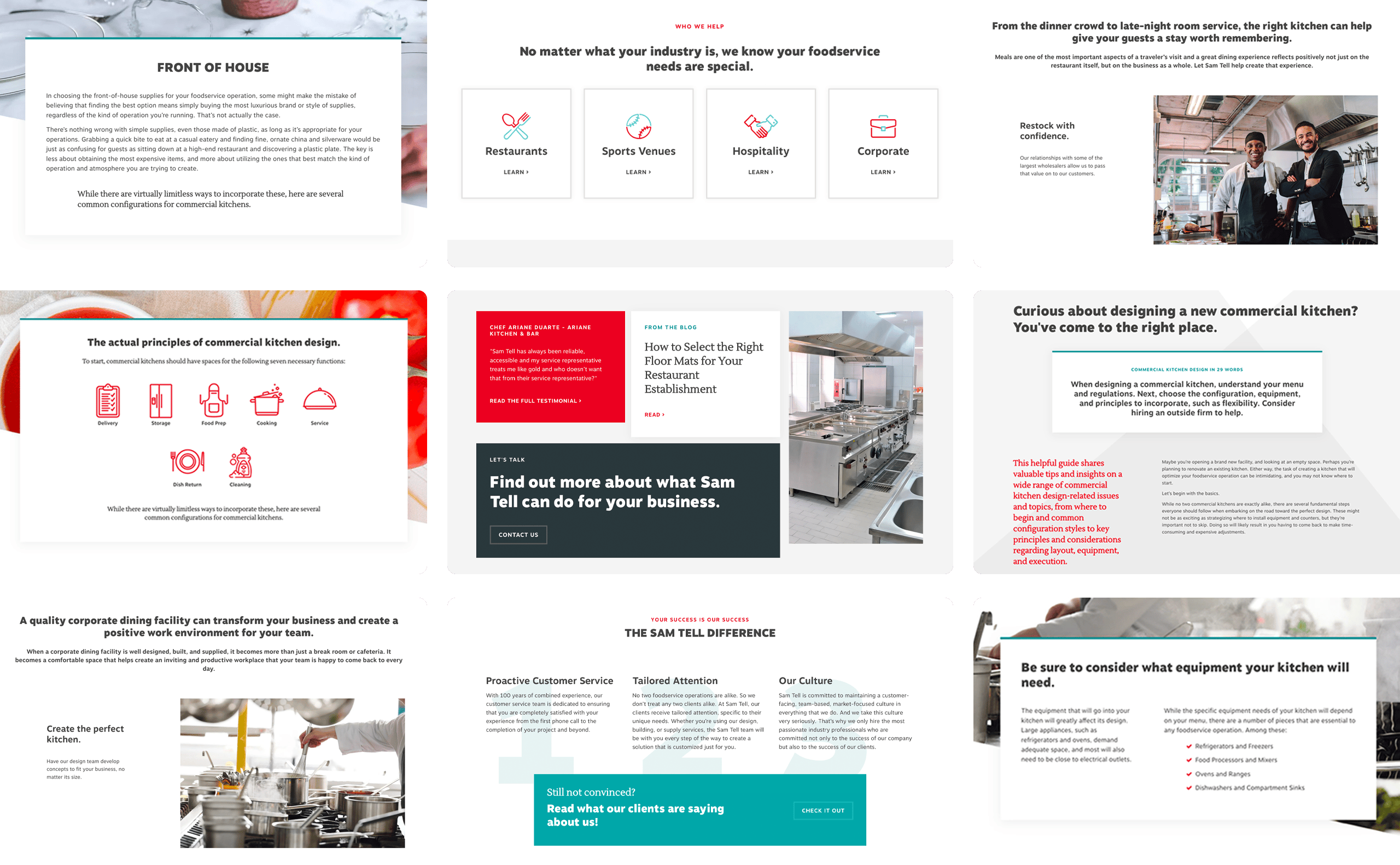 Launch Date
September 01, 2018
Status
Current Client
---
Objective
Despite their long-standing reputation in the industry, Sam Tell's online presence was lagging. Their website, a critical touchpoint for customers and partners, felt more like a relic from the past.
Users were often left grappling with cumbersome navigation, outdated visuals characterized by drab colors and harsh fonts, and an overall experience that didn't mirror the company's excellence. Additionally, for a powerhouse in restaurant supplies, their digital visibility in the buzzing NYC market was not up to par. Searches for restaurant supplies in NYC overlooked Sam Tell entirely, a missed opportunity in a key market.

The Solution
Understanding the gravity of the challenge and the potential impact of the solutions, Hypha HubSpot Development dived right in. In collaboration with Sam Tell, they embarked on a transformative journey:
Brand Refresh with Precision: Hypha immediately implemented a design overall of the site, breathing new life into the brand. This involved updating the logo to a more contemporary look and selecting vibrant colors that reflected the brand's energy and passion.
Revolutionizing the Product Catalog: One of the project's monumental tasks was redesigning the online catalog. It wasn't just about a facelift—this was about creating an intuitive, user-friendly platform. With thousands of restaurant supply items, the new catalog was structured and optimized, ensuring customers could find products effortlessly. This task, while herculean, was pivotal and provided the online browsing experience that Sam Tell's diverse clientele deserved.
Website Overhaul: The revamped website was not just about aesthetics, it was purpose-driven to echo what Sam Tell stands for: Designing, Building, and Supplying. Each section, page, and feature was curated to provide visitors with a seamless experience, guiding them through Sam Tell's offerings.
Search Engine Optimization & Organic Traffic Growth: Recognizing the lack of a foothold in the NYC market, Hypha strategized a robust—and strategically localized—SEO plan.
Improved Conversion Rates: With the heightened online visibility, the website started converting more effectively.
Content Enrichment: The site was further enhanced with tailored content, from in-depth articles discussing industry trends to spotlights on specific high-demand supplies. Each piece was crafted keeping restaurant owners, chefs, and industry aficionados in mind, positioning Sam Tell as an industry thought leader.
Honoring Legacy with Modernity: Throughout the redesign process, there was a conscious effort to intertwine Sam Tell's rich heritage with the new digital era. The outcome is a blend of tradition and modernity, presenting a brand rooted in history but geared for the future.
What We Did
Website Redesign
Core Site Content
SEO
Content Creation
Collateral & Graphic Design
API Integration
---
Tech Stack
CMS Hub
Marketing Hub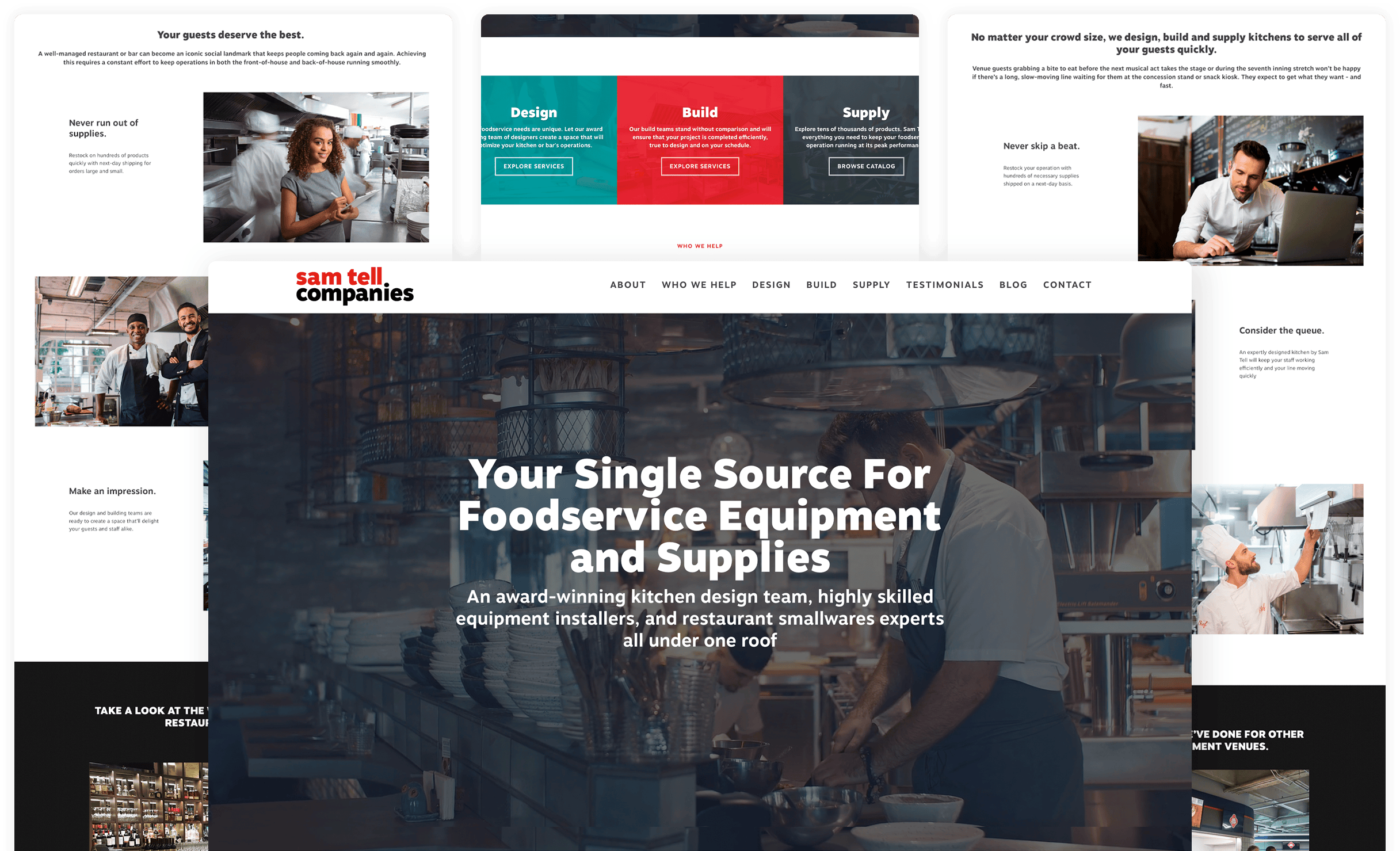 The Results
Post-revamp, Sam Tell's website not only mirrors the excellence and trust that their name has come to signify over the years but also showcases tangible results from its digital transformation. With its modern design and intuitive navigation, the site offers a user experience that's both fresh and familiar.
Integral to this transformation was Hypha's targeted SEO plan, thoughtfully localized to meet Sam Tell's unique needs. The fruits of this strategy were quickly evident: organic sessions soared from a mere 558 to an astounding peak of 7,304. This surge in online visibility didn't just boost traffic; it directly translated into more meaningful engagements. An impressive 1,940 new contacts were attributed to organic search, dramatically overshadowing the previous 615 from direct search.
In combining these strategic enhancements with its historic charm, Sam Tell is unmistakably poised to dominate the restaurant supply landscape, marrying tradition with modern digital prowess.
7,304
Peak organic sessions, up from 558
1,940
New organic contacts, up from 615
Let's Talk
Request an exploratory review today to find out how to take your business to the next level.
View our other work