Oliver Inc.
Boasting over 250 years of combined experience, Oliver encompasses multiple production facilities and cutting-edge technology centered on sustainability. As a comprehensive solution for printing and packaging, they cater to various industries such as food and beverage, health and beauty, consumer goods, cannabis, pharmaceuticals, and beyond.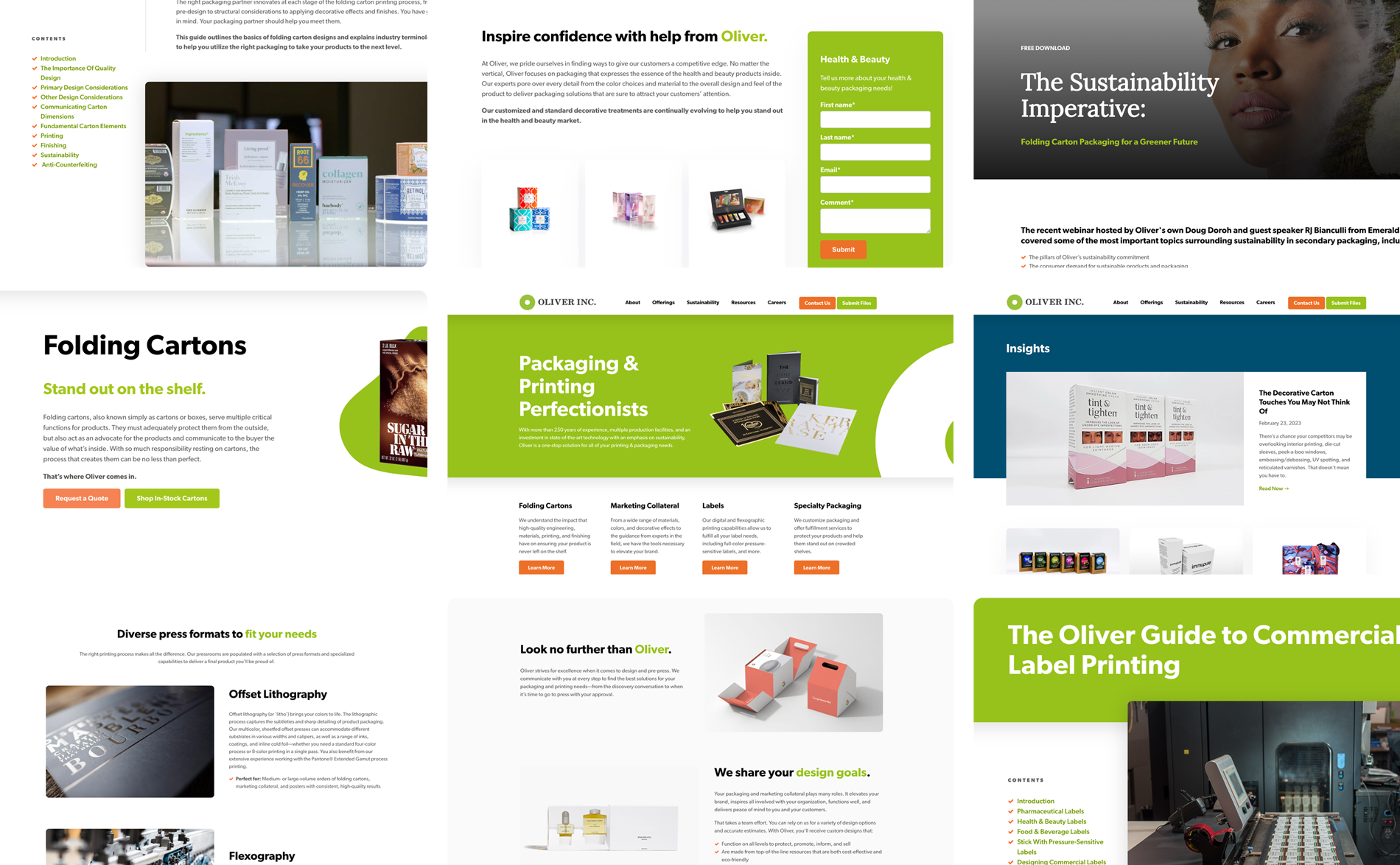 Launch Date
August 01, 2020
Status
Current Client
---
Objective
DISC Graphics, Pohlig Packaging, and Oliver Printing & Packaging had long established themselves as leaders in the packaging industry. The three companies shared characteristics, highlighted by excellent customer service, flexibility, and expertise. In 2020, DISC, Pohlig, and Oliver merged their three brands into one: Oliver Inc.
They turned to Hypha HubSpot Development to launch this new brand. The services included a new Oliver Inc. website, branding support, logo creation, and strategic content to grow the company's online presence and bolster its position as leading producer of folding cartons and other packaging solutions.
Since then, Oliver has continued to grow, both organically and in the market. It has since added branches in Massachusetts, Oklahoma, and Ohio.
What We Did
Website Redesign
Lead Generation
SEO
Content Creation
Collateral & Graphic Design
---
Tech Stack
CMS Hub
Marketing Hub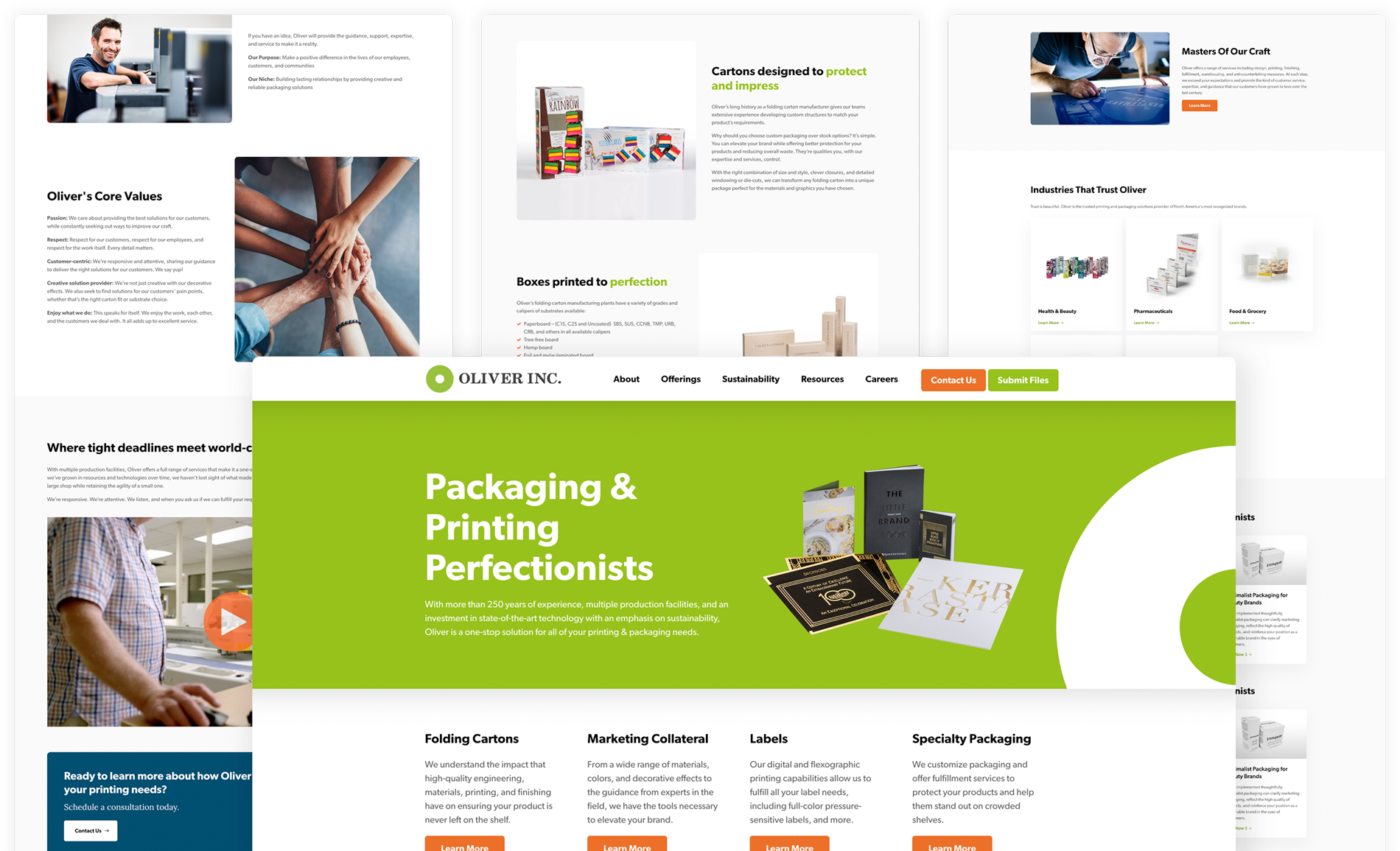 The Results
From January 2021, about four months after the launch of OliverInc.com, to January 2022 Oliver picked up 111 keywords in the top 10 of search thanks to steady SEO-driven content production.
Through a combination of content reorganization, new blogs and pillars, and migrating to an SEO-optimized website, Oliver saw an immediate increase in search rankings and within the first year more than quadrupled its monthly organic traffic.
Oliver Inc. nearly doubled its organic contacts in Q1 of 2021 from Q4 of 2020, the first full quarter of the new website, going from 29 to 52.
That initial growth has continued to the present.
+97
Increase of keywords in the top 10 of search from January 2022 to July 2023
625%
Monthly organic traffic growth in the first two years of the new site
48%
Increase of website-generated contacts from 2022 to 2023
Key Features
Blog Environment
Morey has leveraged Oliver's deep library of images to tell a visual story to accompany their SEO-driven content. The result is an eye-catching blog environment, with limited stock-photo use, that highlights packaging.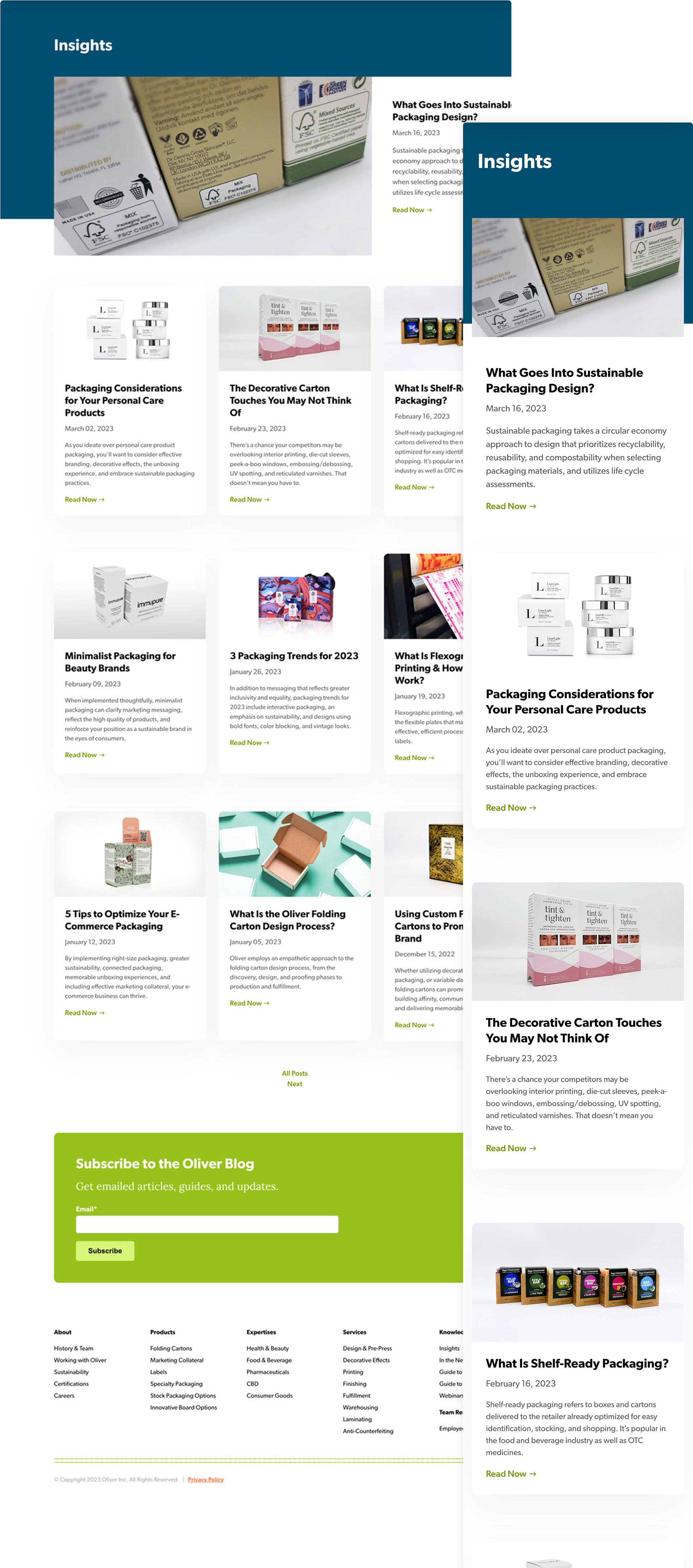 Email Marketing
Morey has created email sequences that repurpose Oliver's highest-performing blogs. Decorative Packaging 101 is one such sequence. Visitors can sign up for this series via blogs that cover different folding carton design subjects, such as foil stamping. They receive five emails that explain the basics of decorative touches and offer guidance on how to best elevate their brands through folding cartons. The header image is a custom gif that transforms from a white carton to a fully decorated one.
Homepage
Oliver Inc. is known for its distinct green brand. Green dominates the page, elevated by clever uses of white space and orange and blue accent colors. Examples of the company's most memorable work are showcased in a header slider.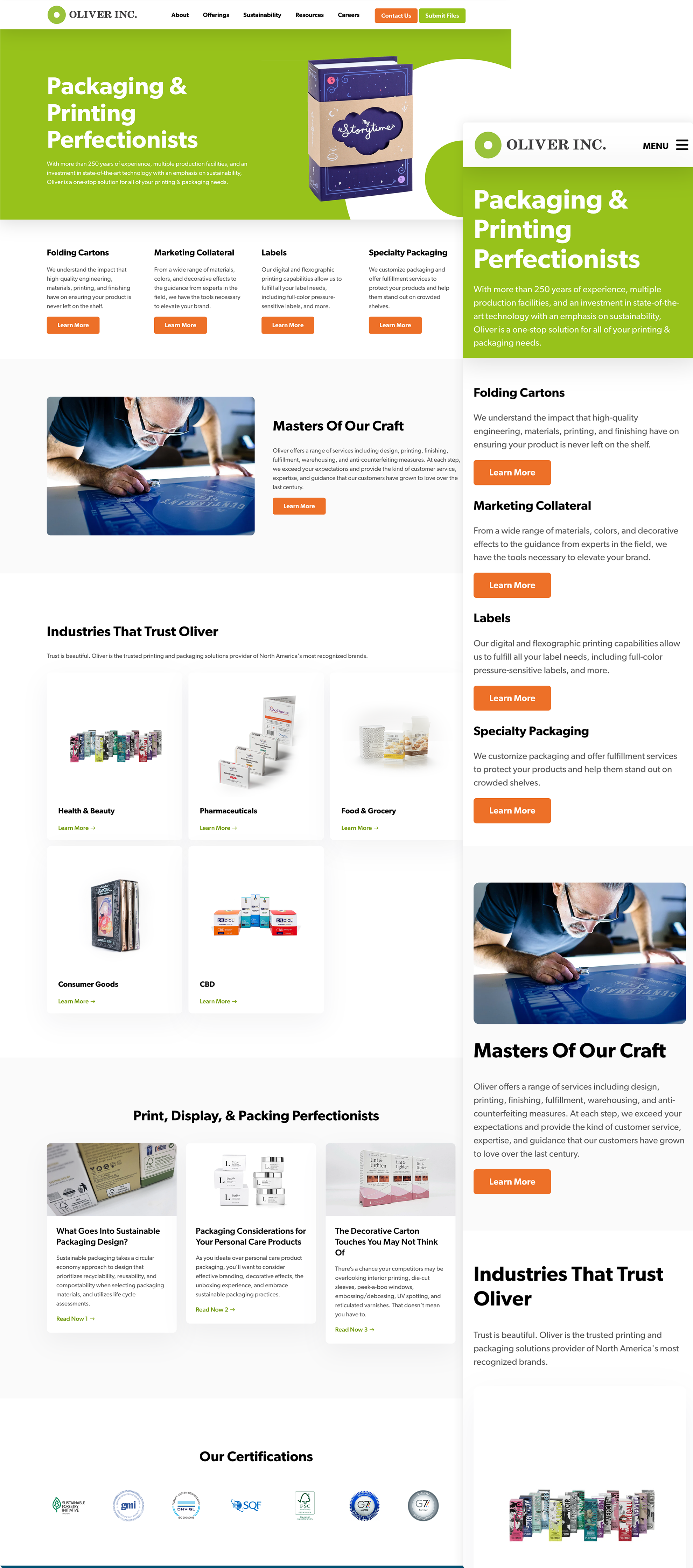 "I have had the pleasure of working with Hypha over the past 2 years and let me tell you... they do not disappoint! From rebranding to website design, content development and marketing plan development and execution, the team at Hypha goes above and beyond what is asked to deliver quality content. They're communicative, knowledgeable, and provide excellent service, always."
Let's Talk
Request an exploratory review today to find out how to take your business to the next level.
View our other work