News Beat
News Beat is an award-winning social justice podcast that combines the passion and power of independent journalism and indie hip-hop to shine a light on historical injustices and contextualize current events. News Beat is set apart from other political and social justice podcasts by its wide spectrum of guests and special collaboration with talented hip-hop artists—who compose and perform original verses to highlight the issues at the heart of each episode, often inspired by personal experiences.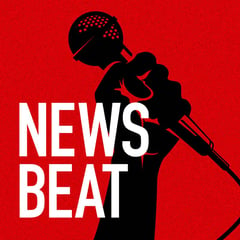 Established in 2017, News Beat has been recognized for its genre-bending format with multiple prestigious accolades from an ever-growing roster of regional and national journalism and podcast institutions. Among these: the Religion News Association, Society of Professional Journalists Long Island Press Club chapter, CUNY Graduate School of Journalism Center for Community and Ethnic Media, and more. Notably, it has twice been crowned 'Best Podcast' by the esteemed New York Press Club, whose annual journalism awards competition includes outlets from New York City, the United States, and across the globe. Most recently, News Beat clinched a top prize at the inaugural Signal Awards, which judged podcast programs from around the world.

Through its thought-provoking episodes, such as "Why We Riot," "America's Reckoning: Is A Change Gonna Come," and "Is Prison Abolition Possible?" among many others, News Beat exposes untold narratives, amplifies marginalized voices, and provides crucial context to the most pressing social and political issues of our time, including mass incarceration, racial injustices, climate crimes, civil liberties, and many more topics and issues far too often ignored by the corporate mainstream media. By seamlessly weaving together journalism, hip-hop, and social justice, News Beat continues to demonstrate the power of independent media.
"When Martin Luther King said 'Riot is the language of the unheard,' it has a particular singularity in its distinctiveness. That you got a lot of oppressive conditions, you got levels of social misery. And they can be in place for a while and there's still no riot. Usually there's a particular moment where the righteous indignation spills over because people could just no longer take it. It could be a police killing a fellow citizen, it can be an ugly act of violation of respect of somebody. It's gotta be something that's deeply psychic, and it touches the spirit of a people. They've reached a point where they actually engage in rebellion."
- Dr. Cornel West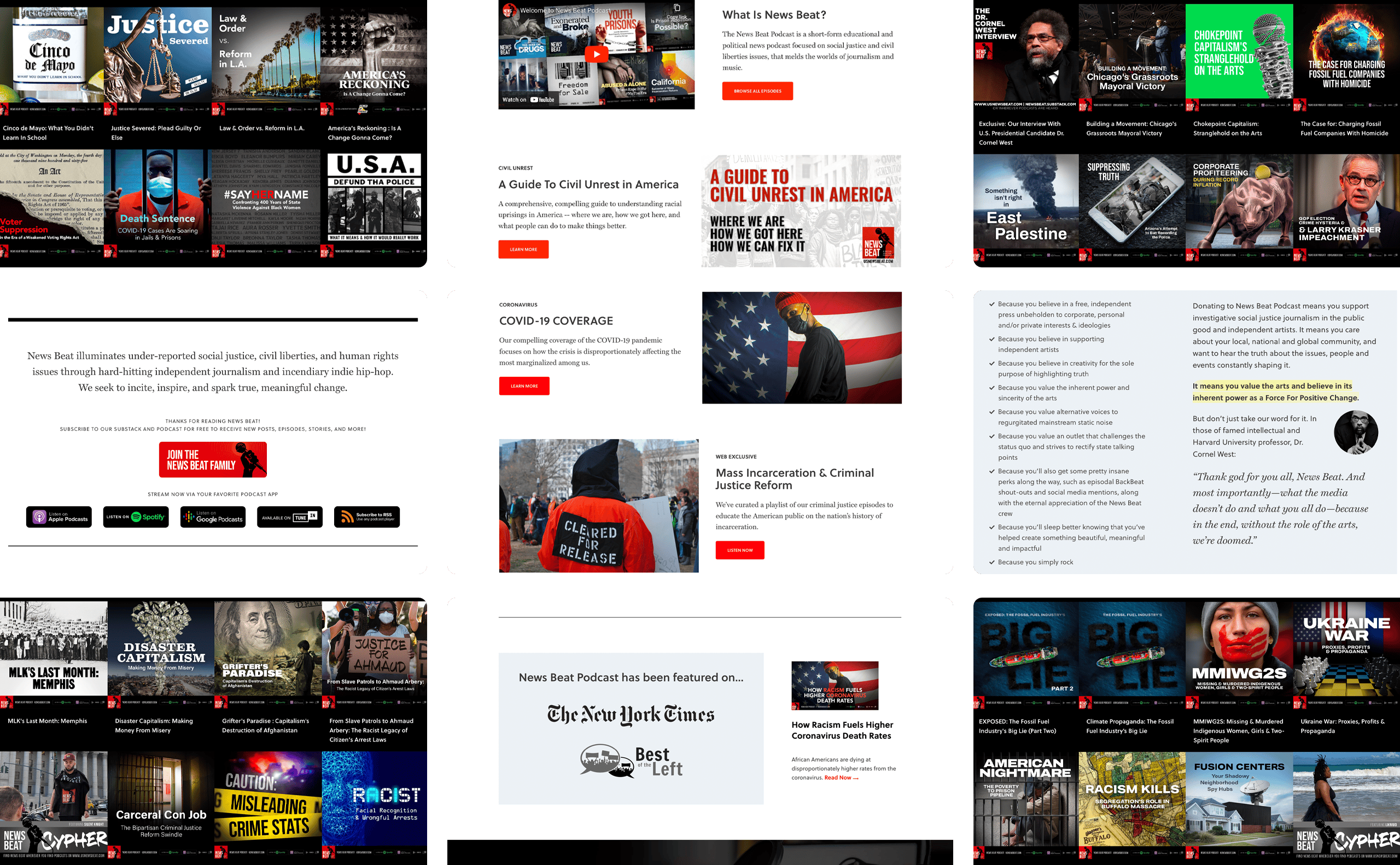 Objective
With giant corporations enjoying a monopoly over the news media amid ever-increasing concentration, there's long been a need for independent media organizations to raise awareness about under-reported issues and hold power to account. Through interviews with knowledgeable sources representing diverse socioeconomic backgrounds—from journalists, authors, and community leaders to artists, activists, whistleblowers, and everyday folks directly impacted by these issues—News Beat educates listeners on everything from the racist War On Drugs, punitive policies in our justice system that have disproportionately impacted Black and Brown communities, the intersection of systemic racism and climate change, America's poverty crisis, and moral and economic decay spawned by unfettered capitalism, among much more.
From the outset, News Beat has strived to break through the cacophony of mainstream voices to dig up the truth, weaponize indie hip-hop to inspire and incite audiences, foster thought-provoking discussions about solutions to social and political problems, and correct whitewashed narratives about historical events and figures, such as Rev. Dr. Martin Luther King Jr. and Rosa Parks.
What We Did
Logo Design/Branding
Core Site Content
Website Design
Lead Generation
SEO
Content Creation
Collateral & Graphic Design
---
Tech Stack
CMS Hub
Marketing Hub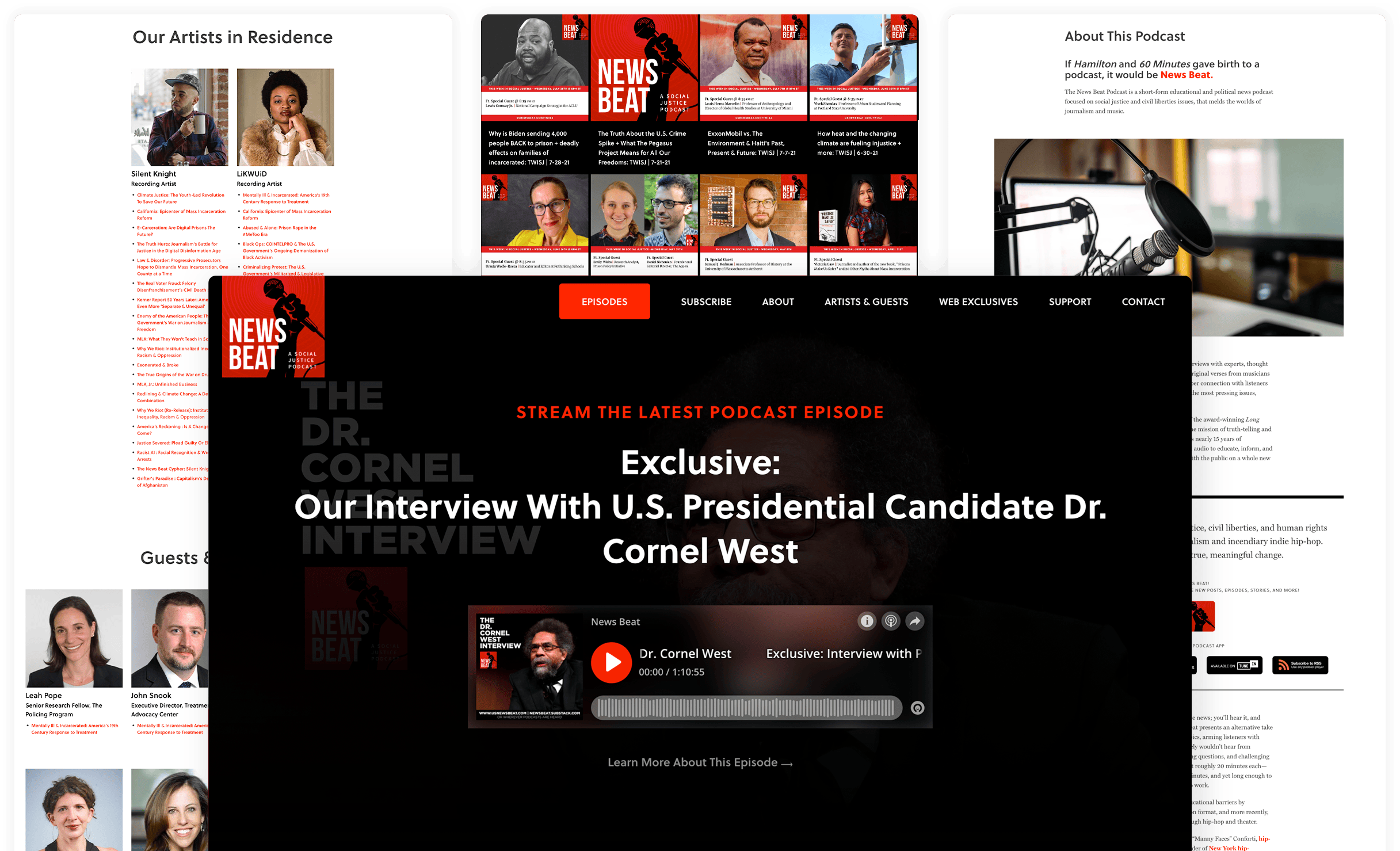 The Results
Reach
News Beat has garnered more than 100,000 downloads since its inception, with some of its most popular episodes exploring such themes as systemic racism, mass incarceration, America's destructive drug policies, the climate crisis, and more. The value of what News Beat produces goes beyond numbers on a spreadsheet, however—as the podcast has been used by teachers and activists in educational settings across the United States.

Looking Forward
News Beat's original mission remains as critical as ever: Amplify the diverse voices of people and communities who don't generally reach mainstream audiences, share the experiences and insights of disenfranchised and marginalized groups, question authority, contextualize current events, leverage hard-hitting independent journalism and indie hip-hop to more authentically convey suppressed truths to its audience and broader society, and just maybe, help spark meaningful change.
Key Features
Artists & Guests
Since 2017, News Beat has welcomed more than 200 guests. These include: Dr. Cornel West, Naomi Klein, Mehdi Hasan, Andrea Ritchie, Chris Hedges, Richard Wolf, Jill Stein, Emily Bazelon, Abby Martin, and Ben Smith, among many others. While News Beat is proud of its ability to attract well-known voices to the podcast, it takes more than big names and large followers to create a compelling audio essay. Some of News Beat's most impactful episodes feature those who've directly confronted injustices and taken the incredibly brave step of speaking out. Perhaps no one personifies such courage more than Alan Newton, a Brooklyn man who spent 21 years in prison for rape, robbery, and assault before being exonerated in 2006. After leaving prison, Newton became an advocate for others who had been wrongfully convicted and left to contend with precarious futures, with no compensation by the states and institutions who falsely imprisoned them.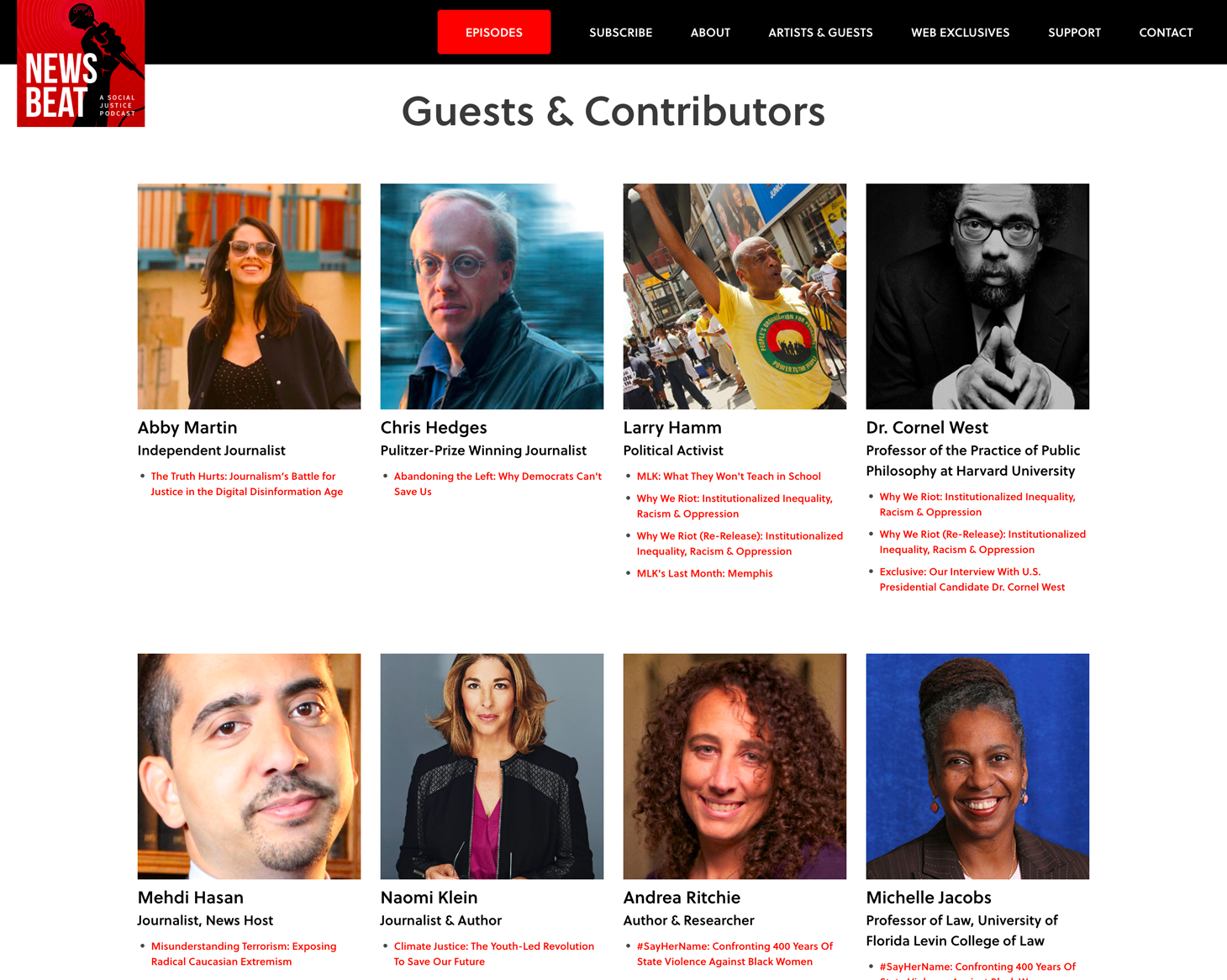 Artists in Residence Program
The driving force behind News Beat is its Artists in Residence program. The merging of social justice journalism and hip-hop is central to News Beat's success and differentiates it from the millions of other podcasts on the market. Currently, the Artists in Residence program is headlined by two of the most talented, passionate, and creative indie hip-hop artists in music: Silent Knight and LiKWUiD.
Silent Knight
A prolific recording and performing artist, Silent Knight has a reputation for being one of the hardest-working artists in independent hip-hop. It's easy to see why: He's the frontman of The Band Called FUSE, hosts and curates its long-standing Line Up Showcase in NYC, and has released nearly a dozen albums independently in less than 10 years. Charismatic yet humble, SK's genuineness comes across in his music and his energetic and engaging stage show. SK has been one of News Beat's Artists in Residence since its launch in 2017, and following his passionate lyrical performance on "Exonerated & Broke"—our episode about the lack of universal compensation for those wrongly convicted of crimes and then cleared—was named an 'Innocence Ambassador' by the nonprofit Innocence Project.
Silent Knight's Verse From "Exonerated & Broke"
LiKWUiD
LiKWUiD is a South Carolina-by-way-of-New York City-based hip-hop fusion music artist, DJ, songwriter, educator, and was named to News Beat's Artists in Residence program in 2018. Born Faybeo'n LaShanna A Mickens, she is committed to using her gift of song to empower the portrayal of women in the entertainment industry. She's performed nationwide with artists such as Slick Rick, 9th Wonder, Matt and Kim, Lyfe Jennings, Jazmine Sullivan, Talib Kweli, Frankie Beverly, and Maze, Bow Wow, Rah Digga, The Last Poets, DJ Evil Dee, and world-renowned comedian Cedric the Entertainer. LiKWUiD's writing style often includes multiple double entendres, extended metaphors, and religious paradoxes.
LiKWUiD's Verse From "MMIWG2S: Missing & Murdered Indigenous Women, Girls & Two-Spirit People"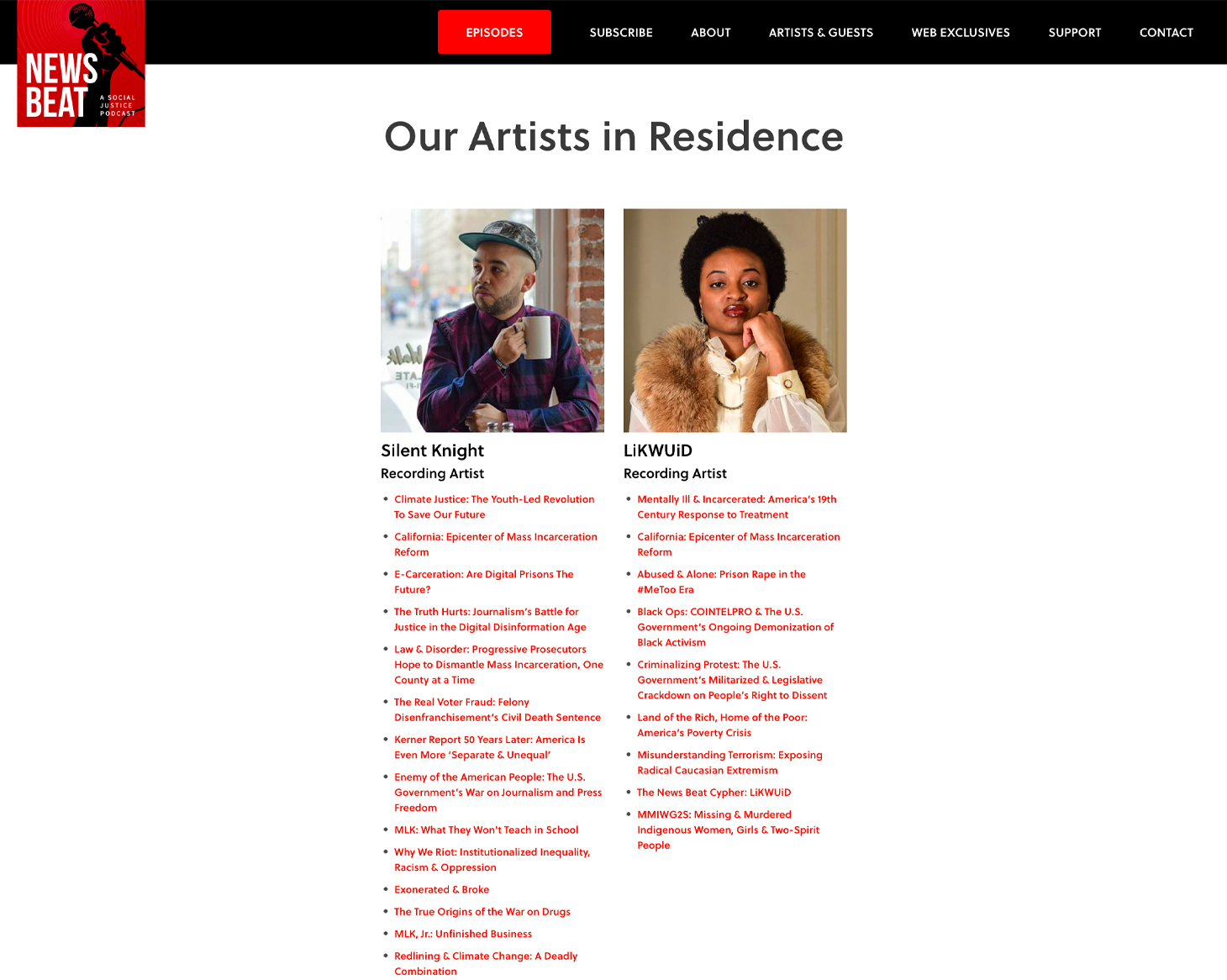 Collaborations
To broaden its appeal and reach, and inject its blend of journalism and hip-hop into the societal discourse, News Beat has collaborated with a variety of organizations. These include partnerships with the Pulitzer Prize-winning digital outlet The Marshall Project; the largest online racial justice organization in the country, Color Of Change; and Left Forum, a New York City-based nonprofit that hosts an annual conference focused on progressive ideals. The collaboration with Color Of Change was especially critical, as it was published in response to the racial uprisings in the spring and summer of 2020 following the slayings of George Floyd and Breonna Taylor. Their deaths—which recalled so many other police killings of Black Americans—sparked a racial reckoning that impacted nearly every aspect of U.S. society.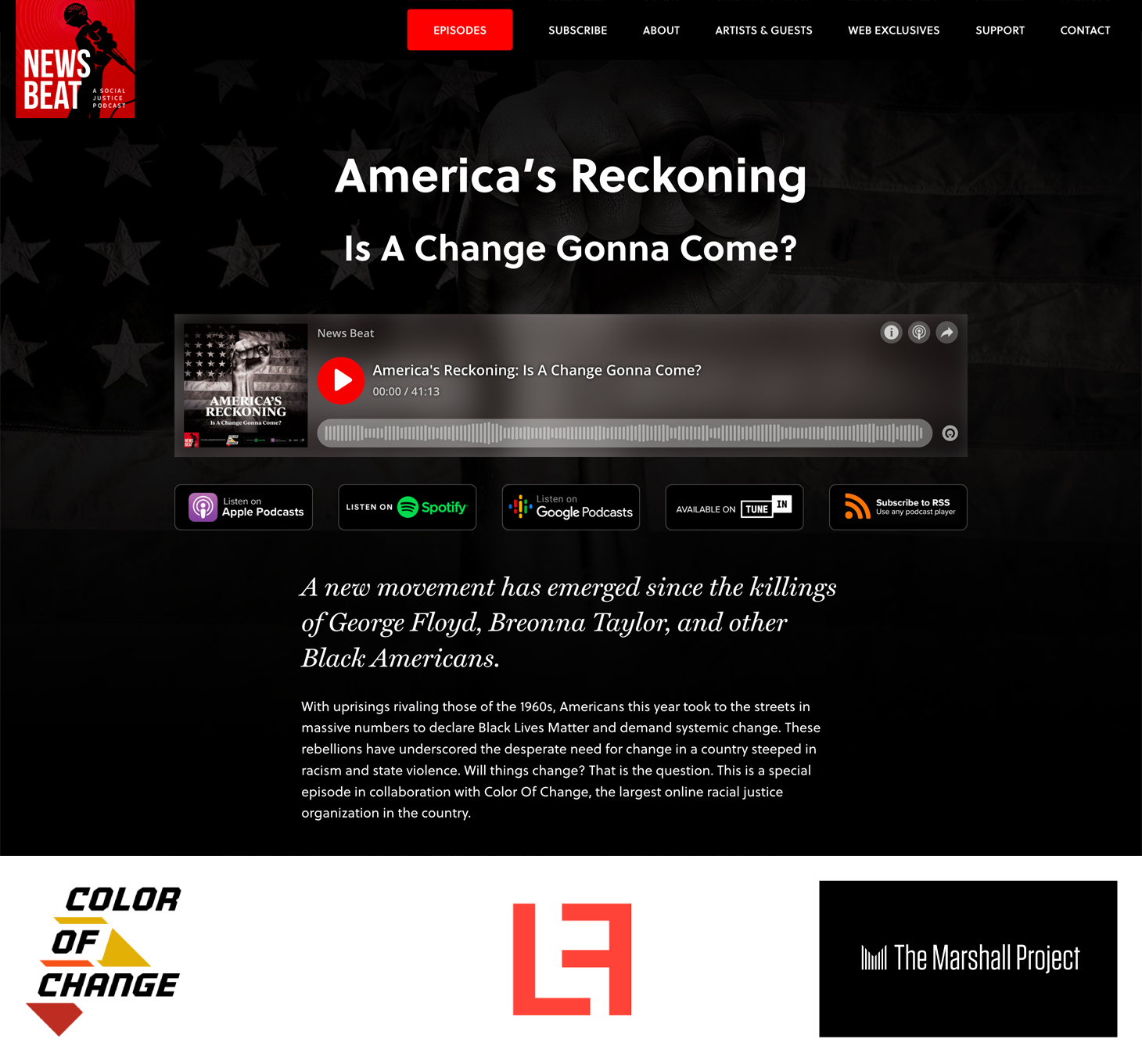 Platforms
USNewsBeat.com
The podcast's main site, USNewsBeat.com, features the original artwork of every episode, along with comprehensive and compelling accompanying narratives, photos and extended bios of all artists and guests, an easy-to-use audio player that highlights recent episodes, and more. There's a subscription page for visitors to access, download, and listen to every episode via their choice of podcast apps—including Apple Podcasts and Spotify, among others—as well as for our free Substack newsletter. There are links to its multiple social media profiles, and sections hosting web exclusives, a support portal for donations, and much, much more.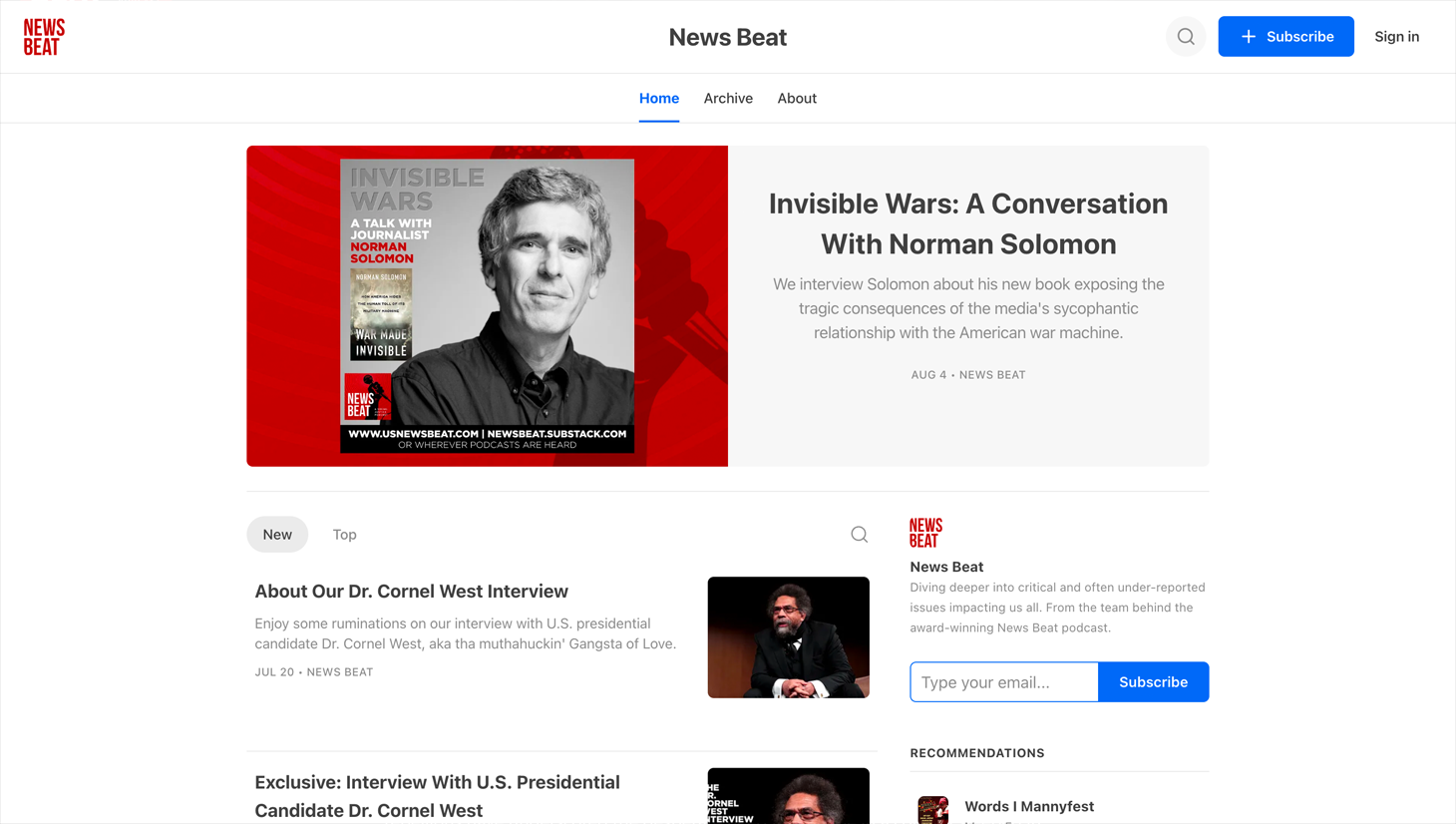 Let's Talk
Request an exploratory review today to find out how to take your business to the next level.
View our other work