NEST
NEST has provided B2B clients with advanced Integrated Facilities Management (IFM) solutions for more than 25 years. Renowned for exceptional customer service, NEST offers unique solutions that save multisite organizations on their facilities management (FM) spend through improved operational efficiencies, powerful analytics, and strategic recommendations.
Launch Date
January 03, 2022
Status
Implementation
---
Objective
As a company selling a complex solution suite with a long sales cycle, NEST needed to improve visibility throughout its marketing and sales tracks by eliminating friction within its current tech stack and better leveraging its web assets more broadly. Goals included:
Attracting more organic traffic within its target market.
Providing more resonant opportunities for lead engagement.
Improving core business processes to enable seamless marketing-to-sales transitions and capturing insights throughout the customer journey.
NEST partnered with Hypha HubSpot Development to accomplish the following:
Streamline its tech stack, including adopting HubSpot's CRM and Marketing Hub in place of current providers, SalesForce and SharpSpring.
Migrate from WordPress to the HubSpot CMS and redesign key elements to improve the website experience, as well as technical SEO metrics.
Execute a comprehensive content marketing strategy to improve positioning for high-value keywords and engage target market prospects.
What We Did
Website Migration
Blog Migration
Core Site Content
Marketing Hub Implementation
SEO
Content Creation
---
Tech Stack
CMS Hub
Marketing Hub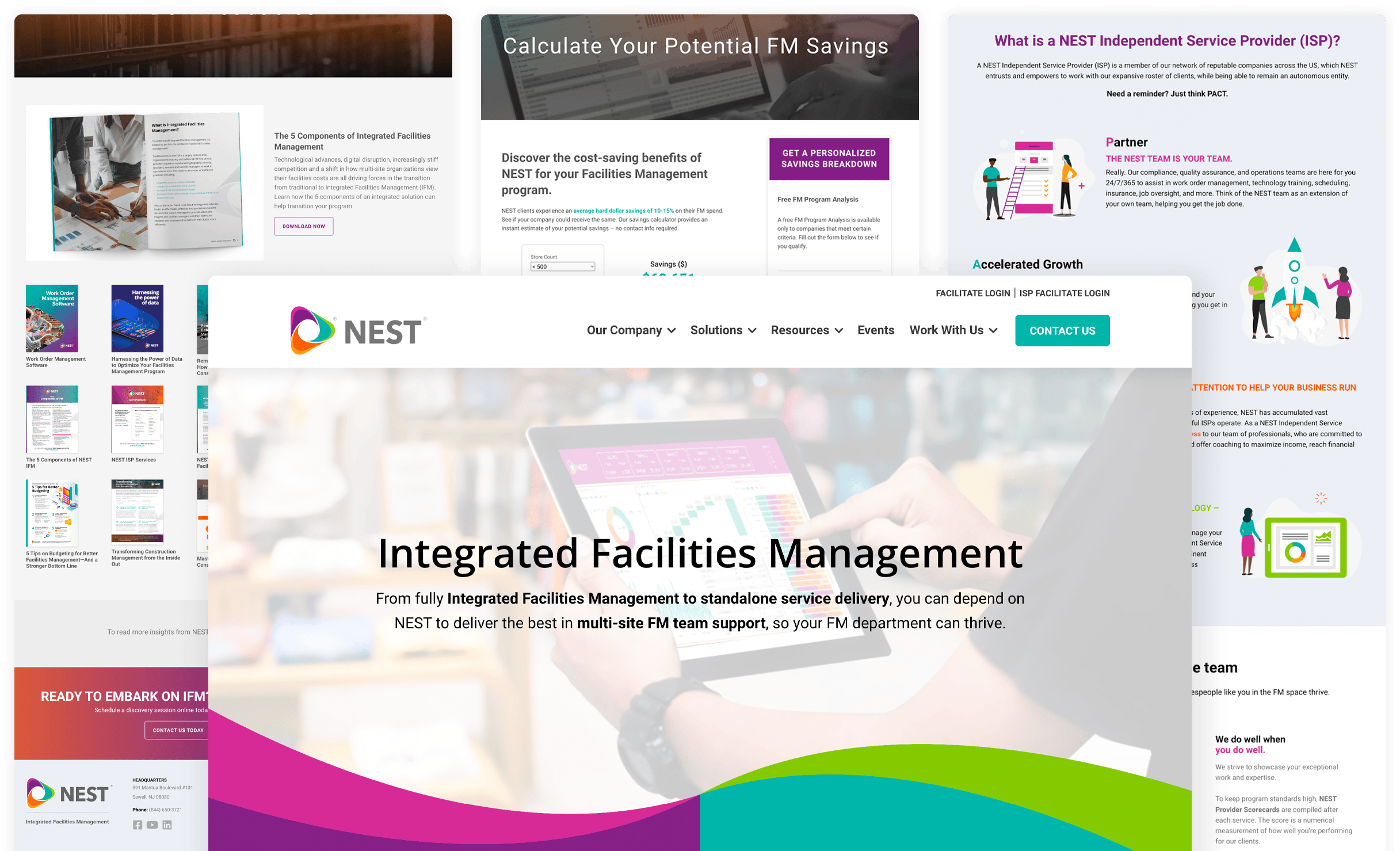 The Results
Once the HubSpot CRM and Marketing components were in place, operational performance improved dramatically. Tracking visitor progress and campaign interactions proved much easier, enabling better communication between marketing and sales, cleaner handoffs, and better outcomes.
Moreover, NEST's migration to the HubSpot CMS enabled the company to leverage the power of a full HubSpot website一resulting in immediate improvements in:
Website load speed
Site organization
Search engine crawlability
In the months that followed, additional improvements, such as a redesigned home page, cost calculator, competitor matrix, and consistent strategic content production further strengthened NEST's online performance. For example, quarter-on-quarter wins comparing Q1 2022 to Q1 2023 include:
22%
Growth in keywords in top 10 positions, including the first position and featured snippet in Google for "Integrated Facilities Management" among others.
20%
Increase in lead generation for prospects interested in NEST's IFM or Construction & Project Management offerings.
85%
Increase in contacts interested in joining NEST's Independent Service Provider network, a key component of its IFM solution.
Let's Talk
Request an exploratory review today to find out how to take your business to the next level.
View our other work