COPA STC
COPA Soccer Training Center provides its members with cutting-edge technology and premier training environments. Spanning 110,000 square feet, the facility is equipped to foster cognitive, physical, and technical growth in athletes. But COPA STC is more than a mere training ground for soccer, as it represents a mindset that encourages exploration, novel skill-building methods, and versatility in all aspects of life. With its dynamic and ever-evolving approach, COPA STC ensures a comprehensive experience for all, welcoming fresh perspectives as it reshapes the future of player advancement.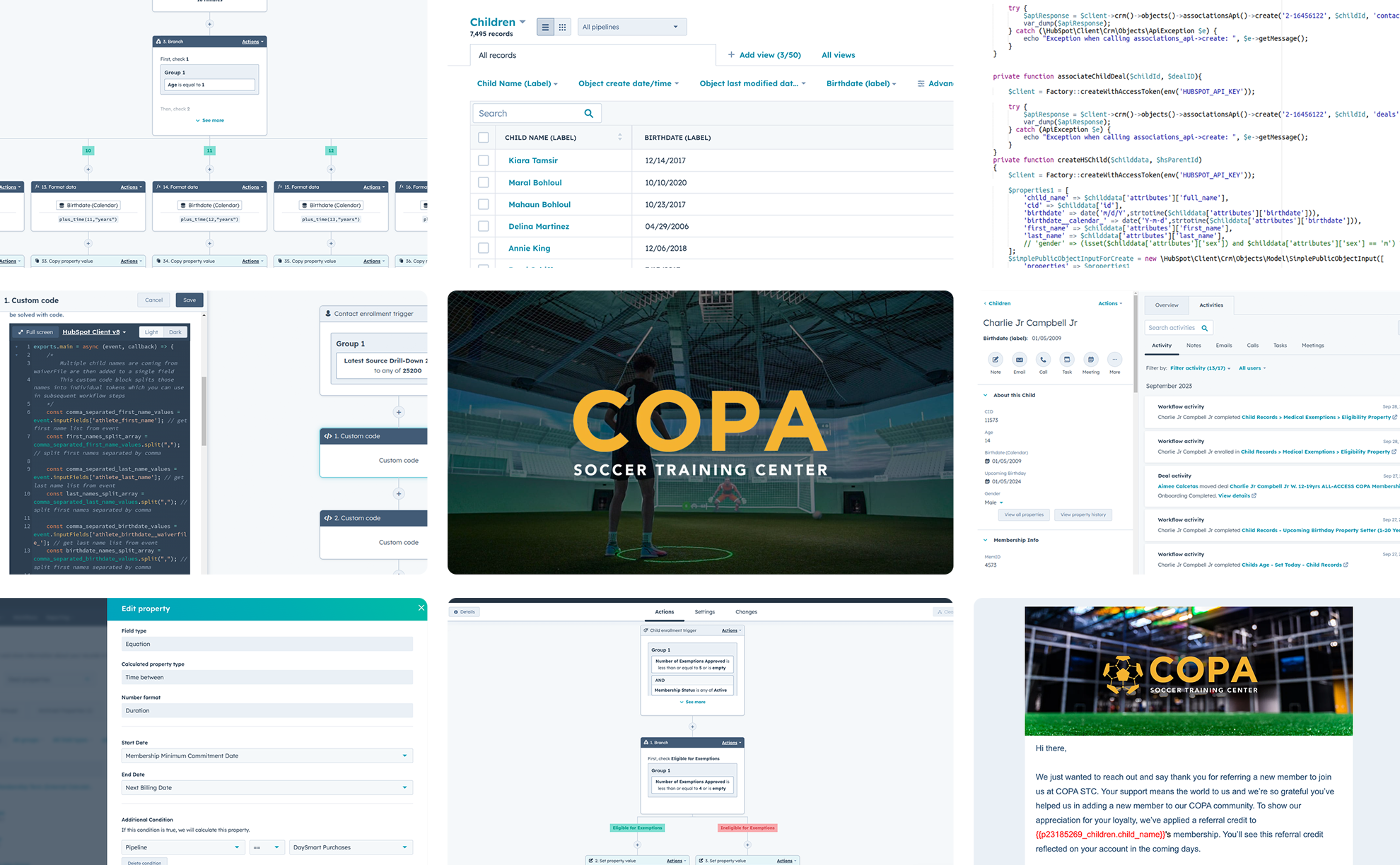 Launch Date
December 09, 2022
Status
Current Client
---
Objective
As the leading youth soccer facility in California, COPA faced the intricate task of efficiently managing memberships, skill assessments, youth camps, and various events. Its prior system proved challenging for the team, often being described as frustrating, insufficient, and cumbersome. Additionally, the absence of historical data reporting hindered COPA from making informed decisions based on crucial customer information. At Hypha HubSpot Development, our goal was to revamp and streamline COPA's system to overcome these obstacles and optimize its operational efficiency.
What We Did
Marketing Hub Implementation
Sales Hub Implementation
Service Hub Implementation
API Integration
eCommerce
---
Tech Stack
Marketing Hub
Sales Hub
Service Hub
Operations Hub
The Results
Through a collaboration with Hypha, COPA's team seamlessly transitioned and synchronized its data with HubSpot. Achieving this required Hypha's product team to design a tailored integration using API, enabling a fluid exchange of data between the two platforms. This negated the necessity for COPA's team to rely on its outdated system for member interactions.
Equipped with the enhanced capabilities of HubSpot tools, COPA not only bolstered its marketing initiatives but also streamlined operations. This newfound efficiency allowed the company to divert its energies towards fresh ventures. As a result, COPA optimized its facility's usage, introducing offerings such as adult leagues, birthday celebrations, expert-led clinics, dedicated parent gyms, and much more!
Let's Talk
Request an exploratory review today to find out how to take your business to the next level.
View our other work