Easy & Effective Ways to Add Automation to Your Marketing Strategy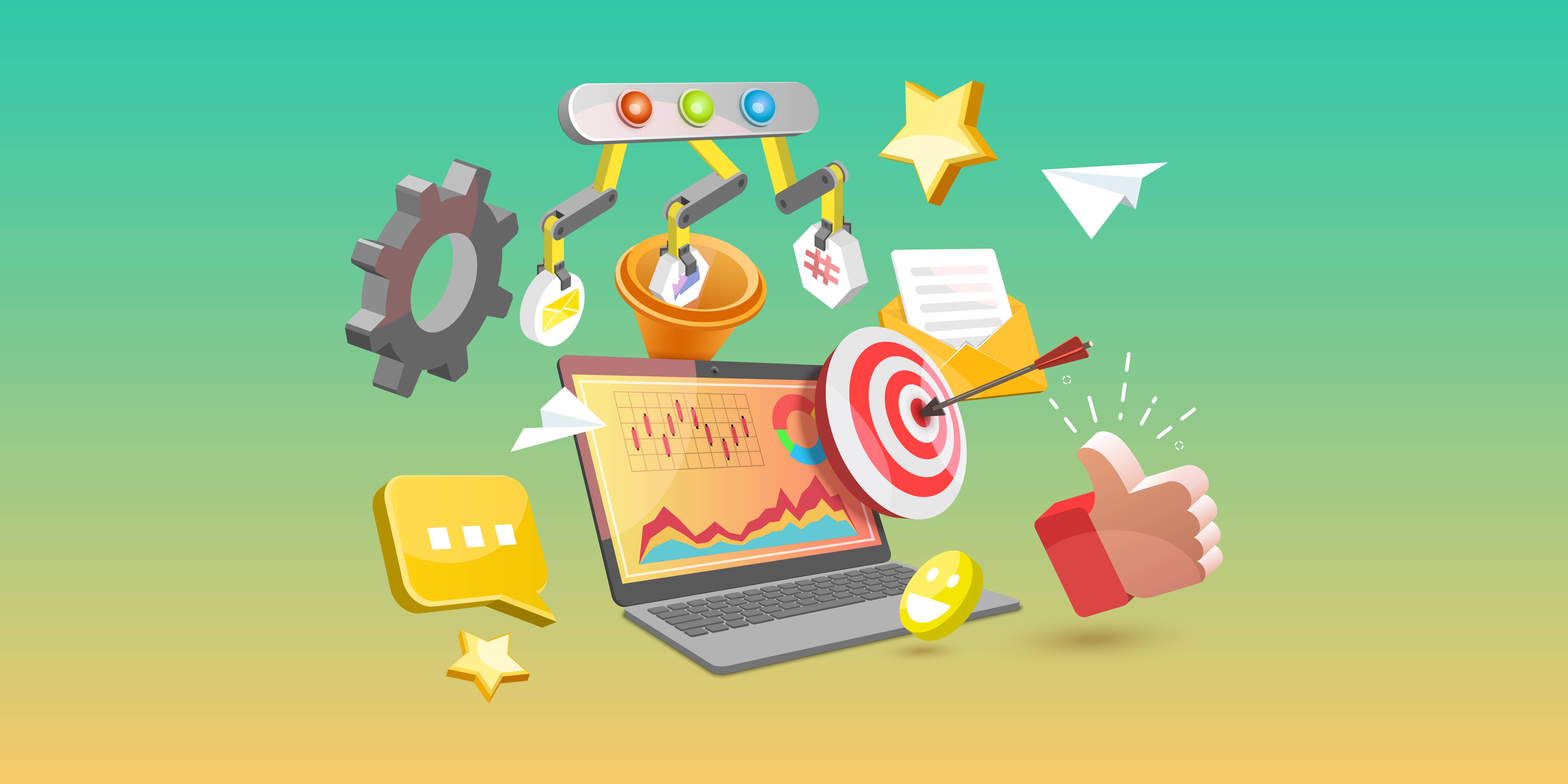 In today's crowded online marketplace, delivering a valuable and gratifying customer experience is a key differentiator that can boost your bottom line. Prospects respond positively to brands that understand their pain points and offer products and services to resolve them.
However, implementing a granular level of personalization can be time consuming, overwhelming, and expensive. That's where marketing automation comes in. Including automation in your marketing strategy is a powerful way to get more value from your customer data, add relevant touchpoints throughout the customer journey, and save time and money.
According to a review of 16 case studies (published between 2016 and 2020) undertaken by global return on investment (ROI) technology research company Nucleus Research, every dollar spent on marketing automation returned an average of $5.44 in benefits.
Intrigued? Below we've included a few easy and effective ways to add automation to your marketing strategies—but first, it's essential to understand what is meant by marketing automation.
Marketing Automation
Marketing automation utilizes software to automate digital marketing functions across multiple channels, such as email, SMS, web, and social media. It can be employed throughout the marketing and sales cycles but is especially useful for mid-funnel lead scoring and nurturing. These tactics can include repetitive tasks and data review where automation can really make a difference.
For example, automating messaging in an email drip campaign to quality leads can save time, mitigate error, and use contact data to improve the customer experience. It can also free up your marketing team to focus on higher-order challenges. And the larger the campaign, the more ROI marketing automation can deliver.
How Does Marketing Automation Work?
Marketing automation works best when a business has a steady stream of leads through inbound strategies such as SEO-optimized websites, blog posts, and organic search.
The next sequences of actions in the buyer's journey are designed to transform leads into evangelists. Within marketing automation, these sequences are called workflows. When a lead takes action, it triggers a brand response to move that lead into a specific workflow and further down the sales funnel. Many workflows can be automated to be more timely and relevant than what a human professional could deliver in the same period.
For example, suppose a prospect completes an online form to receive a newsletter. That action completes the prospect's conversion to a contact. The software then adds them to a specific workflow in which they receive a "welcome" email series.
Using a customer relationship management (CRM) platform for contact management enables businesses to log contact behaviors and interactions. These can include online browsing behaviors, onsite conversions, conversations with reps, purchases, and more. The data can then inform the next steps in the buyer's journey and prompt the launch of suitable marketing automations to improve the process.
Suppose a contact tends to click on newsletter articles about road bikes more than mountain bikes. The software can include a personalized coupon for clipless shoes or other road bike accessories in the next newsletter edition.
Automated workflows can be built from templates or customized from scratch. They can also be revised midstream to improve conversions.
How to Add Automation to Your Marketing Strategy
Here are several easy and effective automated workflows to include in your marketing strategies:
List building workflow. Create audience segments for targeting with automated list building. When a prospect completes a form, specific responses should trigger their assignment to a particular list within your CRM platform. You can identify lead groups, deploy smart content, and customize your content offers. Quality marketing automation tools, such as those offered by inbound marketing, sales, and CRM platform HubSpot also enable dynamic updating with new contact data.


Email series workflow. When a prospect registers to receive an email newsletter, for example, that can immediately prompt the launch of a "welcome" email series. The immediacy of the email delivery is gratifying for the new contact and can provide additional opportunities to engage with your brand一in real time.


Reengagement workflow. This can help initiate a reengagement campaign for contacts who haven't interacted with your brand for a specific period. It costs six to seven times more to acquire a new customer than retain an existing one, so improving the efficiency of reengagement tasks with automation can drive significant ROI.


Overlay workflow. Capturing and keeping website visitors' attention is essential to achieving conversions. Citing analytics platform CrazyEgg data, SEO tool Ubersuggest contends less than a third of abandoning visitors return to the website. If you're finding people are leaving too soon, scrolling excessively, or are inactive for long periods, deploy an overlay automation to keep visitors interested. For example, offer a free trial or added content offer if the visitor converts within the next few minutes.


Topic-based, lead magnet workflow. A lead magnet is a downloadable digital content piece about a specific topic offered to website visitors in exchange for their email addresses. Content can include ebooks, brochures, and webinars, to name a few. Automating the download enables the visitor to get what they want when they want and can prompt the creation of an audience segment (also automated) around a particular topic.


Lead nurturing workflow. This provides additional value to leads with follow-up content or the opportunity for an informational call to enhance learning, for example. This feature can be especially helpful for long sales cycles or complex products requiring significant buyer education. After a lead has downloaded an ebook on trends in construction management, for example, a text or email is sent inviting the lead to chat with a sales rep about follow-up questions.


Streamline internal task workflows. Marketing automation can improve internal processes, such as the handoff of a lead from the marketing team to sales and, later, to customer success. It can also alert a team member to follow up with contacts or when leads are viewing pricing pages.
But Before You Begin…
To use market automation successfully, we recommend following these tips first:
Collaborate with marketing, sales, and customer success teams in developing comprehensive personas and related customer journeys. Include workflows with touchpoints, handoffs, and content offers. Insights throughout the sales cycle can help inform the creation of positive customer experiences from start to finish.
Create robust content for your personas. Whether it's a form, email, text message, eBook, or social post, create content that resonates. If your content isn't providing value, no amount of marketing automation can help.
Where possible, stagger the rollout of your marketing automation campaigns. Improve results over time by analyzing what's working in early rounds and adjusting as you go.
Working With the Right Marketing Automation Partner
Selecting a platform that's right for your business among the hundreds available can be overwhelming. Understanding your company's unique buyer's journey and where automations can have the greatest impact can help inform your selection process. At a minimum, choose a platform that includes the tools and features to meet these requirements. Consider outside review platforms, such as peer-to-peer review site G2's Marketing Automation Software Review Grid, as part of your preliminary search. This illustrates the relative positions of marketing automation software providers based on market presence and user satisfaction.
Other factors to consider include ease of use, integration with your existing tech stack, and a public API if developer customization will be required. Pricing, typically structured as per number of contacts, will also be a factor.
HubSpot offers industry-leading, scalable marketing automation that meets the requirements of small businesses to enterprise-level organizations. As part of its comprehensive Marketing Hub™, Hubspot's marketing automation tools are part of one easy-to-use platform that includes all your marketing functionality and data in one place. Save time and money by automating repetitive and time-consuming tasks while improving your team's productivity.
Seamless integration with HubSpot's best-in-class CRM platform enables users to harness the full power of their contact data to create personalized customer experiences leading to conversions, delighted customers, and ROI.
HubSpot's marketing automation includes an intuitive user interface with straightforward navigation, a visual editor to help create workflows, and seamless integration with most commonly used technologies (including SalesForce). Powerful analytics track your progress every step of the way, and comprehensive customer support and online learning resources are available 24/7. Hubspot also offers transparent pricing with specific product suites that can adapt to your changing needs over time.
Finally, be sure to request a demo of any marketing automation software you're considering to ensure you're selecting the right solution to help save time, boost marketing ROI, and develop engaged and delighted customers.