Should You Work With a Partner on Your Social Impact Report?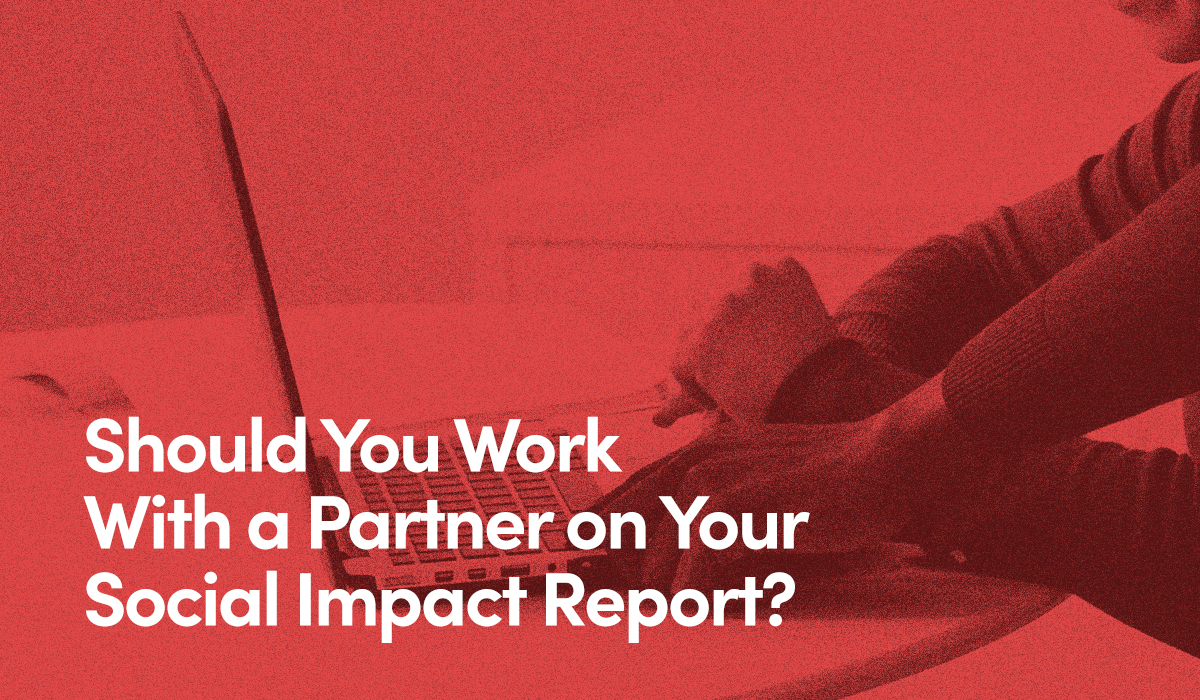 As an organization focused on contributing to positive social change, you understand how important it is to measure and report on your impact. Whether it's to meet stakeholder expectations, comply with regulations, or track your progress toward your impact-related goals, a social impact report can provide valuable insights into your organization's performance.
Part of the process includes determining whether you should you work with a partner on your social impact report or manage the process in-house. Here are some factors to consider.
Expertise
Social impact reporting can be complex and require expertise in various areas depending on the type of social impact report you want to create. There is no definitive approach to social impact reporting, but even at its most basic, your report should include a cohesive narrative of your intentions, baseline measurements, any progress made, areas of improvement, and next steps. As such, your report production may require additional skills and expertise in these areas:
Strategy. This could include aligning social impact reporting with your organization's mission and values, mapping across appropriate framework(s), and identifying material issues and other insights.
Impact research and measurement. You may know you want to include Diversity, Equity, and Inclusion (DEI) initiatives in your social impact report but don't know how to capture the correct data or measure its impact. A social impact partner can help identify metrics and determine what data can be utilized most effectively.
Content and digital design. Your social impact report should be well-written, look professional, and align with brand standards. Working with a partner with expertise in these areas can make a significant difference in the experience of impact report consumers.
Marketing leverage. To get the most out of your social impact report and existing digital marketing strategies, the two can be integrated to benefit both. Smartly deploying content marketing strategies一including SEO (search engine optimization)一and a world-class domain hosting platform for report microsites, can increase organic traffic to your report and provide additional entry points to other website pages. These can increase conversion opportunities for your business.
Project management. Social impact reporting can require cross-functional collaboration across different team members. Having a resource responsible for project progress can help ensure standards, milestones, and budgets are met.
Objectivity & Benchmarking
A partner can provide a more objective perspective on your organization's impact, which can be valuable for identifying areas of improvement and demonstrating transparency to stakeholders. In addition, social impact partners may have access to industry benchmarks, trends, and updates that better inform your report development and execution.
Time & Other Resources
Social impact reporting can be time-consuming, especially if your organization is new to it. For example, gathering relevant and accurate data一both internal and external一can be a challenge. If the data doesn't exist, deploying and analyzing surveys, feedback forms, or other stakeholder engagement methods may be required.
Other standard social impact report processes, such as reviewing governance documents, supply chain partner practices, and data privacy infrastructure, can also be time and labor-intensive.
Working with a partner can free up your team's time and resources from these and related tasks to focus on core business activities.
A partner can provide a more objective perspective on your organization's impact, which can be valuable for identifying areas of improvement and demonstrating transparency to stakeholders.
Cost
While working with a social impact partner can seem more costly than doing it yourself, it's essential to consider the report's indirect costs in your analysis. Working with a vetted expert will help ensure the project is done correctly the first time with minimal participation required from you and your team.
In addition, having gone through report creation once with a social impact partner, you'll better understand what will be required going forward, making the process more efficient the next time.
When the report is completed, you'll have an asset that resonates with internal and external stakeholders and can be leveraged to help market your brand and business.
Partnership
Working with an external social impact expert can also provide positive partnership and collaboration opportunities, especially if you choose a partner that shares your values and mission.
Working Hypha HubSpot Development
Ultimately, whether to work with a partner on your social impact report will depend on your organization's goals, experience, and resources. If you want to ensure your report is credible, informative, and engaging, working with a partner may be a wise investment.
At Hypha HubSpot Development, we help organizations such as yours craft exceptional social impact reports that are relevant, data-rich, and look amazing. Our core competencies in SEO, content marketing, and HubSpot make us uniquely qualified to support our clients throughout their social impact reporting journey.
And we don't just talk the talk. We report on our company's social impact, too. Check out our 2022 report.
Finally, contact our team today to learn more about social impact reporting and how Hypha HubSpot Development can help.
At Hypha HubSpot Development we help businesses with non-financial reporting, from first considerations to publication and beyond. Learn more about our non-financial social reporting services and how we can help.