How to Choose Relevant ESG, Sustainability & Social Impact Metrics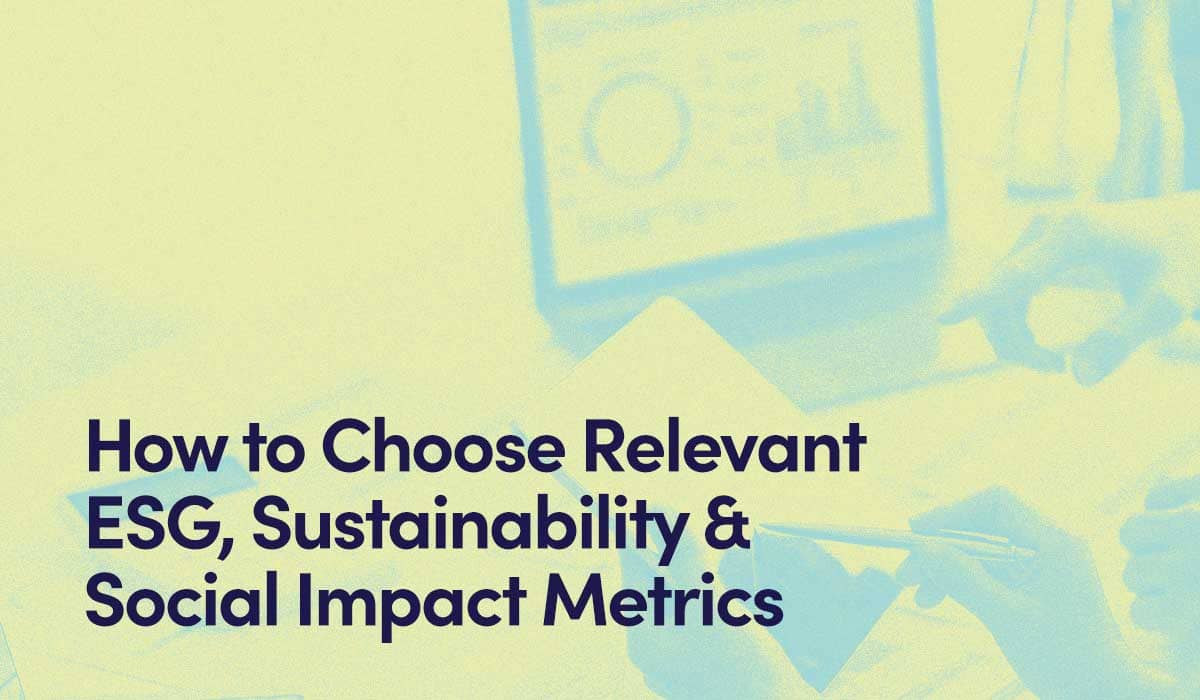 More and more organizations are becoming concerned with their impact on the world, beyond just the bottom line.
Shareholders, consumers, and investors want to know if businesses and brands are creating positive change and contributing solutions to pressing problems, such as climate change, economic inequality, racial injustices, disinformation, inaccessibility, discrimination based on gender or sexuality, criminal justice reform, and the rise of authoritarianism, to list a few.
People want to know that the brands they buy from and organizations they partner with hold similarly socially conscious values and want to make a difference in the world.
Industry leaders acknowledge that economic activities cannot be divorced from social and political realities, no matter how much some may try.
Environmental sustainability, social responsibility, and corporate governance (ESG) and social impact reporting provide a way for organizations to remain transparent about their impacts on the environment and communities in which they operate. When executed properly, these reports hold organizations accountable to shareholders, consumers, and investors, while highlighting potential areas for growth.
Plus, these reports can be used to help identify potential value-aligned partners to ensure that any collaboration won't jeopardize your brand and reputation.
Socially conscious reporting entails a wide array of metrics. So how do you select which ones are most relevant to your business?
Choosing ESG, Sustainability & Social Impact Metrics
Your organization might prioritize a few elements of ESG, sustainability, and social impact reporting, or choose one metric from each category. The metric you select will depend on which framework and standards make the most sense for your organization and industry.
So we'll focus on choosing the right framework. The proper metrics follow from there.
Notably, framework refers to the overall guidelines and set of best practices employed while standards speak to the specific benchmarks your organization aims to achieve with ESG, sustainability, and social impact efforts.
These frameworks include Global Reporting Initiative (GRI), International Standards Organization (ISO), Sustainable Development Goals (SDG), and Sustainability Accounting Standards Board (SASB), to name just a few.
In choosing the right framework, standards, and metrics, you'll want to compare industry-specific vs comprehensive options, stakeholder categories, organization size, and your specific aims or goals.
Industry-Specific or Comprehensive
Some frameworks are intended for specific industries while others are more comprehensive or industry agnostic.
For instance, established by the United Nations, SDG entails 17 expansive goals:
No Poverty
Zero Hunger
Good Health and Well-being
Quality Education
Gender Equality
Clean Water and Sanitation
Affordable and Clean Energy
Decent Work and Economic Growth
Industry, Innovation, and Infrastructure
Reduced Inequalities
Sustainable Cities and Communities
Responsible Consumption and Production
Climate Action
Life Below Water
Life on Land
Peace, Justice, and Strong Institutions
Partnerships for the Goals
Notably, customer relationship management software provider Salesforce focuses heavily on decent work and economic growth, reduced inequalities, and partnerships for goals.
Other frameworks are specific to a given industry, as well.
For instance, Principles of Responsible Investment (UNPRI) is relevant to financial investors seeking to increase their returns responsibly while minimizing risk.
Stakeholder Categories
Another way to look at these frameworks is through their target stakeholders. In other words, you want to identify recipients of the report.
Each of these are designed to satisfy the needs of particular stakeholders. What's intended for investors, won't necessarily work for governments or managers, and so on.
The Carbon Disclosure Project (CDP), for example, relates to governance while Science Based Target Initiative (SBTi) and Future-fit Business Benchmark (FFBB) pertain to management. Sustainalytics, Climate Disclosure Standards Board (CDSB), and Dow Jones Sustainability Index (DJSI) are aimed toward investment.
Organization Size
ESG, sustainability, and social impact reporting have become rather ubiquitous throughout Fortune 500 and other publicly traded companies, but that's not to say small- and medium-sized organizations don't utilize or benefit from them.
Some frameworks and their attendant metrics are best suited for companies based on size.
For instance, GRI, arguably the world's most widely used sustainability index report, is suitable for organizations of any size while B Corp, a private certification and set of standards related to social and environmental outcomes, is most often implemented by medium-sized and smaller businesses.
Specific Aims & Goals
When assessing your social and environmental impact, you should choose the framework and metric most relevant to your organization. If you're a business, branding will play a significant role in this, as well.
For example, if you're an outdoor company, you'll likely want to concentrate on environmental efforts, specifically those relevant to your consumers' love of enjoying nature.
A woman-owned chocolate company, for instance, might emphasize gender equity in addition to sustainability initiatives showing the impacts the sourcing of its chocolate has on communities in South American countries.
There's a lot to choose from. Here are just a few ESG or social impact aims that may suit your organization:
Environmental Stewardship: reducing greenhouse gas emissions, increasing recycling, reducing waste, switching to renewable energy, planting native trees, preserving forests, protecting habitat for endangered species, establishing community gardens, localizing supply chains, restoring wetlands
Social Responsibility:

improving disabilities representation

,

embracing digital inclusion

, supporting other community organizations, seeking input from community stakeholders,

supporting marginalized communities

Corporate Governance: establish diverse board of directors, improve executive transparency, protecting data, increasing voter registration among employees and community members, rooting out potential for political corruption, implementing better compliance policies, addressing salary inequities between executives and other employees
An Abundance of ESG, Sustainability & Social Impact Frameworks
There are more than 600 different ESG, sustainability, and social impact reporting standards, frameworks, and guidelines used today, with myriad metrics embedded in all of those.
However, if you narrow them down by industry, stakeholder categories, organization size, and your specific aims or goals, you'll find a few that are very well suited for your situation.
Whether you're considering working with a new social impact reporting partner or just starting, we can deliver a compelling impact narrative that clarifies your message, amplifies your mission, and empowers customers, investors, and talent to better engage with your brand. Learn more about our impact reporting capabilities and how we can leverage them to bring your impact story to life.