Why You Should Build Your Website on the HubSpot CMS Hub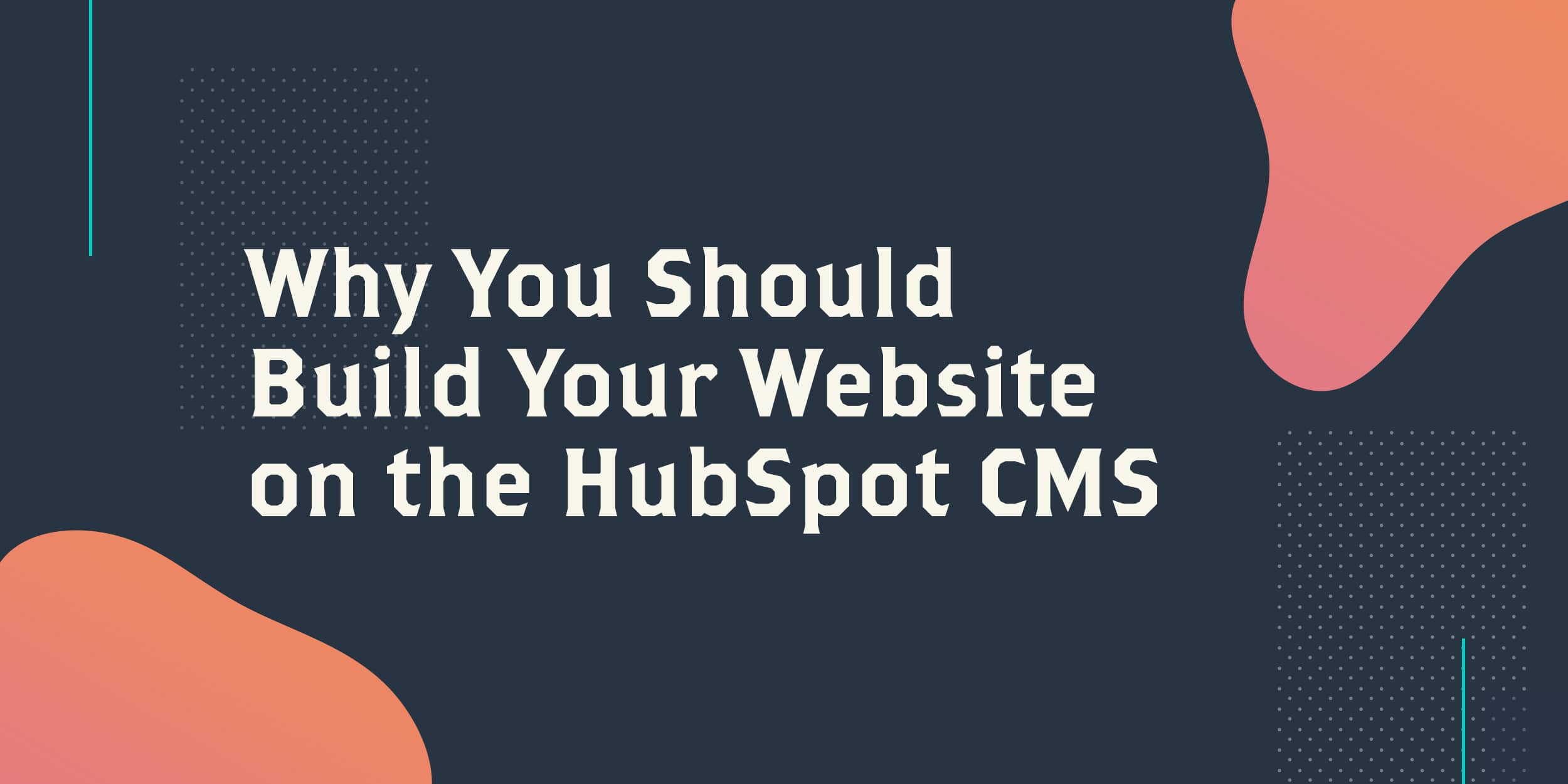 Choosing a Content Management System (CMS) doesn't have to be difficult. That's because there isn't a single platform in the world with as many tools to grow your business as HubSpot.
First, a little bit of history: Hypha HubSpot Development had developed websites on the WordPress platform for several years before making the move primarily to HubSpot. Naturally, we identified the pros and cons of each, ultimately resulting in a passionate discussion on the "HubSpot vs. WordPress" episode of our in-house industry podcast, 'Inbound & Down.'
HubSpot's CMS Hub possesses an assortment of tools to help grow your business.
While not your traditional CMS, it is a secure, fast, and reliable all-in-one platform that includes everything you and your team need to provide wonderful experiences for users.
Why is HubSpot's CMS Hub unique? Well, along with a vast array of web features, HubSpot offers sophisticated marketing and sales tools to help sites attract the appropriate audience, and by extension, improve your operation.
All Features of HubSpot CRM
Forms
Form Follow-Up Emails
Phone Support
Ad Management
List Segmentation
Mobile Optimization
Blog & Content Creation Tools
Calls-to-Action
Landing Pages
Standard SSL Certificate
Smart Content
Dynamic Content With HubDB
Website Pages
Design Manager
Staging Environment
Robust Template & Module Marketplace
Website Analytics
SEO & Content Strategy
Google Search Console Integration
Custom Domains
99.99% Uptime
Content Delivery Network
Security Monitoring & Threat Detection
The CMS Hub is structured with marketers, developers, and IT professionals in mind.
Marketer
With CMS Hub, marketers can update websites without relying on a developer. The tools and custom modules/themes built by the developer will enable any marketer to make changes.
Developer
The CMS Hub enables developers to build marketer-friendly custom themes and a flexible layout and content creation experience allowing for easy website updates. This will empower developers to focus on higher priority projects to grow the business without having to divert their attention to making content updates.
IT Professionals
Speed, security, and uptime is important on any CMS platform. The CMS Hub allows IT professionals to both monitor the health of websites and make changes to domains, redirects, and more to ensure the most optimal experience for visitors.
---

Powerful Design & Web Development Tools
Design Manager
This is where the magic happens. The design manager houses all your website, blog and email templates, stylesheets, and custom modules. It utilizes a very intuitive interface, where all your files live on the left, and your code and module editor on the right. With the main focus of the drag and drop builder positioned in the middle, you can start building your templates quickly and with ease. You'll notice this three-column interface layout being used across the HubSpot backend in other tools, as well.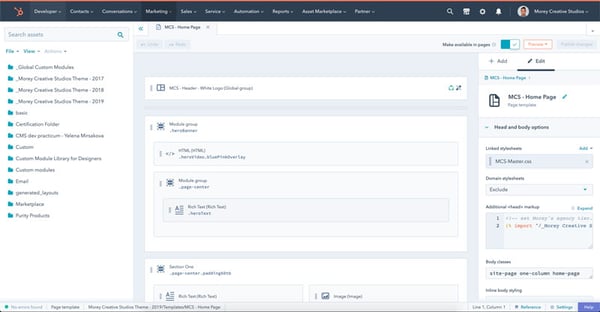 Screenshot of HubSpot Design Manager
Local Website Development, Website Themes & Content Staging
HubSpot CMS Hub allows you to now develop locally using your favorite tools and tech stack. Whether you want to utilize GitHub, for example, to manage version control or other tools, you have limitless options. Themes allow developers to create an optimal content editing experience. You can start from scratch or use one of HubSpot's pre-built themes. Themes also give marketers the power to conveniently control and make updates to their website, meaning they can now make changes to content or styling without knowing how to code.
With CMS Hub, users can redesign a website in a staging environment. You can clone existing HubSpot pages or start with a blank slate. Replacing old pages with redesigned versions is as simple as a single click.
Website Pages, Landing Pages & Blog Environments
With HubSpot CMS Hub, you can create an unlimited amount of website pages, landing pages, and blog environments. Some CMS platforms charge extra for site pages and storage. HubSpot houses all your pages in one spot so you can tab between your site pages, landing pages, and blogs. They have a great filtering system that allows you to find your pages with ease whether you want to search or filter by campaign. You can also analyze and optimize your pages.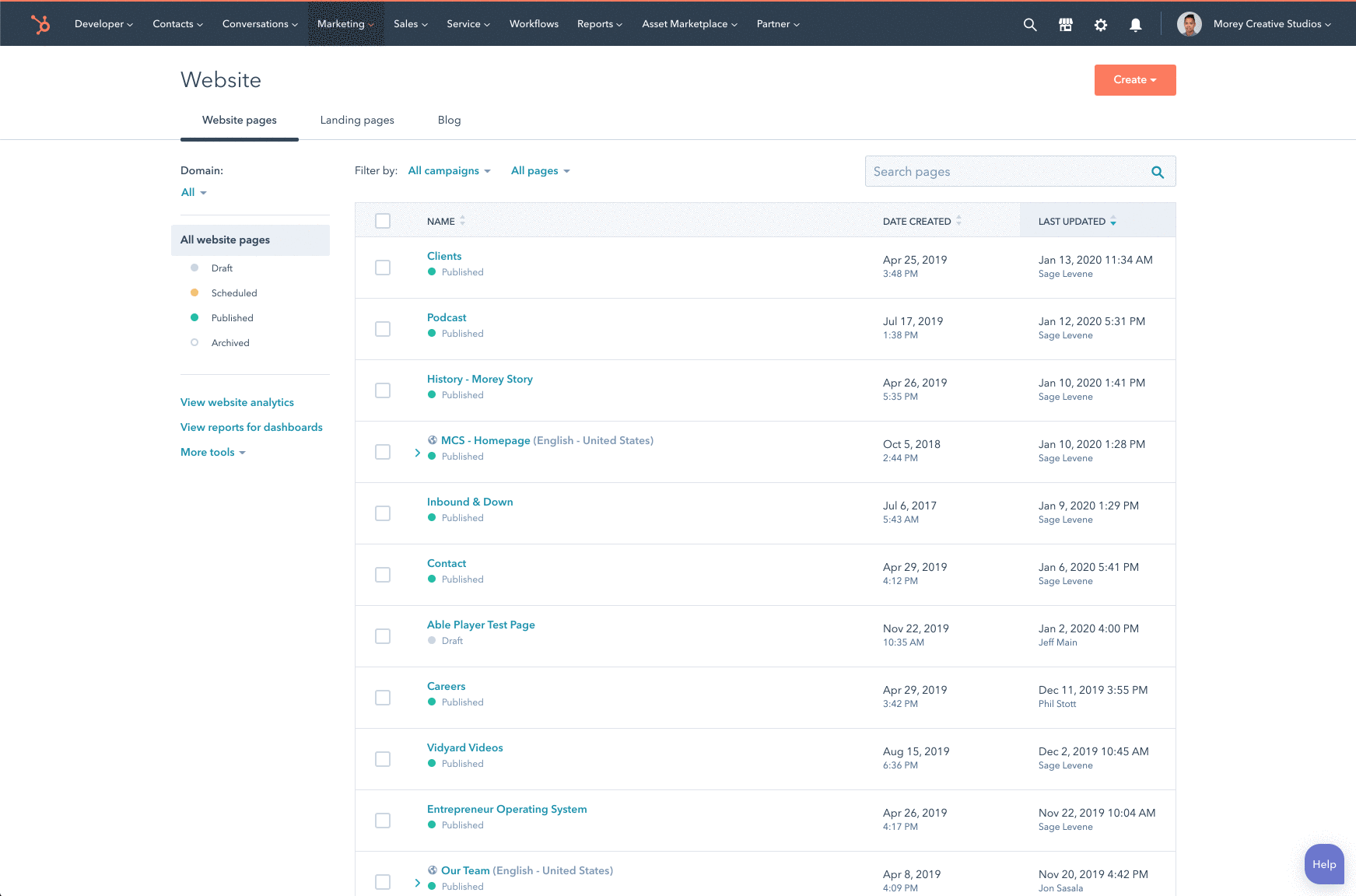 GIF recording of Website Pages Interface
HubDB
HubDB is an incredible database system that enables developers to build dynamic database-driven content, such as team pages, upcoming events, product catalogs, and more. It is very easy to use, with database editing via a convenient spreadsheet table.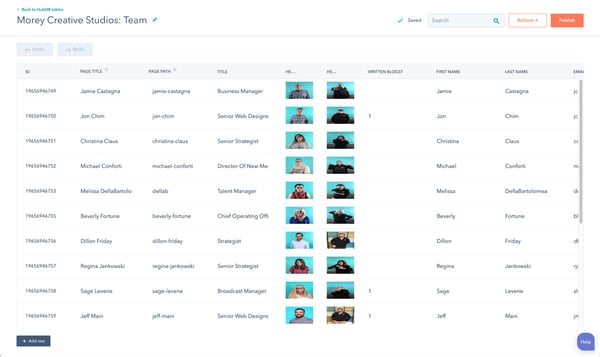 Screenshot of HubDB Rows
Robust Template & Module Marketplace
HubSpot's template and module marketplace has pretty much everything you need to build your website. These custom templates and modules are built with the marketer in mind, well organized, and include helpful tool tips. You can even submit your own modules to sell in the marketplace. Related: Building Your First HubL Custom Module [FREE Module].
Email Templates & Email Drag & Drop Builder
Create and send awesome emails in HubSpot without the need to utilize a third party like a Mailchimp or Constant Contact. With HubSpot's easy-to-use drag and drop email builder, you can personalize and craft emails quickly. Emails have built-in reporting similar to website pages, so you can analyze open-and-click rates, as well as conduct A/B testing to optimize your email campaigns. HubSpot Built This Nifty, Free Email Signature Generator .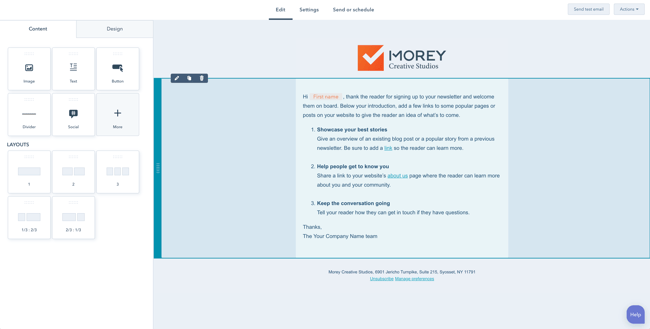 Screenshot of HubSpot Email Drag & Drop Builder
Developer Documentation and Community
CMS Hub has awesome documentation and resources that allow any developer, regardless of experience, to jump right into the platform. And, if you have any questions while using these tools, there is also a very active community within Slack, the popular business communication platform, where you can connect with other developers that can help you find a solution.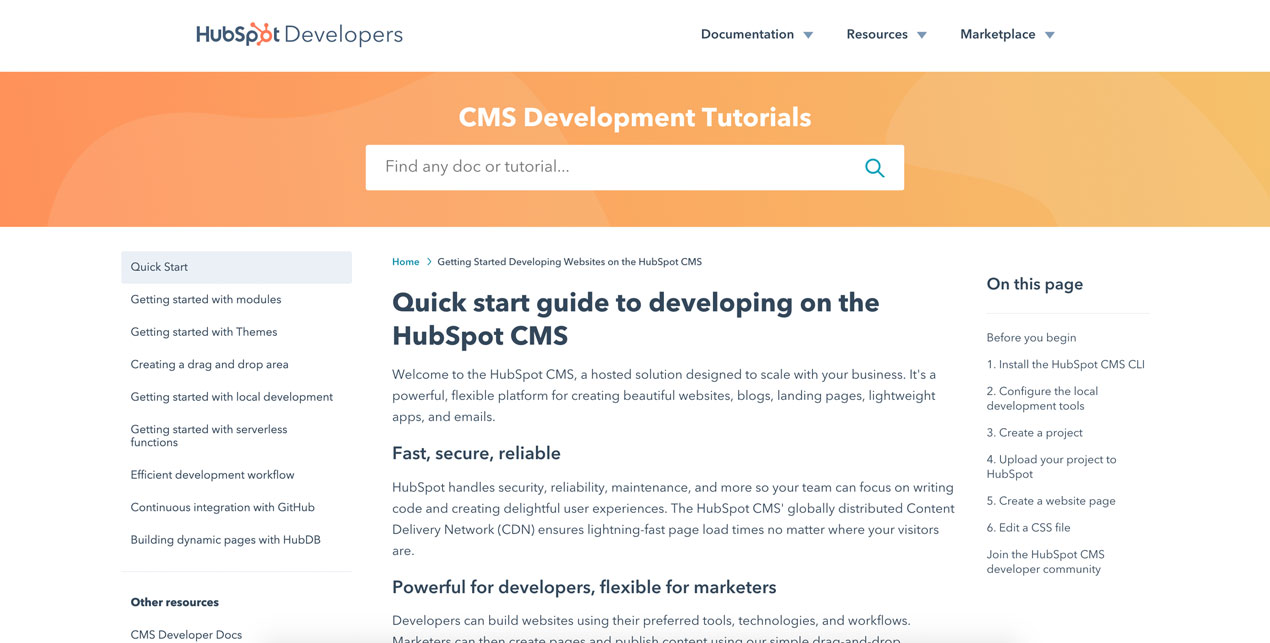 Screenshot of CMS Hub Documentation


---
"Marketers fall in love with HubSpot CMS Hub for three reasons. They can:
Stop wasting time on maintenance and updates and instead focus on the customer. HubSpot fully manages world-class infrastructure so you don't have to.
Remove the gatekeepers and get work done quickly. Our drag-and-drop editor is easy for marketers to use and for developers to set up.
Create personalized experiences and make data-driven decisions. Our CMS Hub is directly connected to our CRM, unlocking the power of data and personalization—no developer required.
For these reasons, and more, we're seeing companies like ClassPass, Toyota Guatemala, TRX Fitness, and World Wildlife Fund use the HubSpot CMS Hub."
—Luke Summerfield, Web/CMS Hub Go-To-Market Lead at HubSpot
---

New Design Features in the Enterprise Tier
Membership Portal
With HubSpot CMS Hub you can turn a part of your website into a membership portal that will require a unique username and password to gain access.
Multiple Domains & Team Partitioning
In HubSpot you have the ability to house any additional brand domains within your portal. This allows you to keep track of your content and marketing efforts, all in one spot.
With team permissions, you can grant access only to the areas of your platform you'd like. And if prefer to organize your team even further, HubSpot now enables you to segment by role.
Adaptive Testing
HubSpot's existing A/B testing tools have improved with the addition of adaptive testing. This feature allows you to test up to five page variations at a time, including each variation, displaying the one that performs the best.
Serverless Functions
With serverless functions, you can write server-side code that interacts with HubSpot through APIs to build interactive elements such as advanced calculators, event registration systems, and more. Learn more about serverless functions.
Lead Management Functionality
HubSpot CRM
HubSpot's Customer Relationship Management (CRM) is valuable for all teams. Whether you're sales, marketing or service, it provides free tools to help you grow your business.
Marketers can generate leads using forms, create marketing emails, build chat bots, monitor website activity, as well as organize contacts. Sales teams can manage pipelines, contacts, track deals, monitor analytics, and more. Service teams can manage tickets, build knowledge bases, and gather feedback from customers.
Forms & Follow-Up Emails
Build custom forms that'll integrate right into the CRM using a simple drag and drop builder. With limitless form fields and a wide array of field types, you can create every form imaginable. HubSpot Forms enables you to automatically send follow-up emails, enroll leads into campaign workflows, and notify users on your team.
List Segmentation
List segmentation is important for marketers because it groups and organizes customers based upon specific criteria they wish to target. With HubSpot, you can build smart and static lists to deliver messaging that resonates with the customer. Using personas and smart lists that are dynamically updated according to enrollment criteria enables you to enroll them in workflows, send them personalized emails, smart content, CTAs and more.

---
"HubSpot's CMS is intuitive and user-friendly for all marketers: If you can use a web browser, you can make changes to your site quickly and without ever touching code. And with the Marketplace, there are a ton of integrations and extensions that bolt onto your site and deliver more advanced functionality."
—Jeff Main, Design Director, Hypha HubSpot Development
---

Optimal Security, Site Speed & Maintenance
Security & Maintenance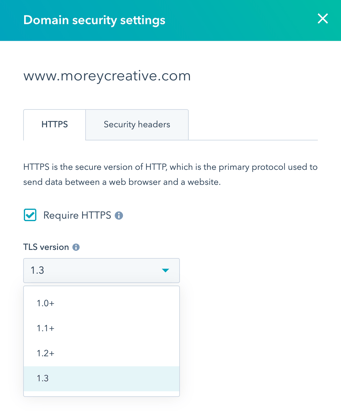 Screenshot of domain security settings.
Check to See if Your Site Is Protected With SSL Encryption
With 99.99% uptime, HubSpot is also maintenance-free. There's no need to spend time updating the platform and plugins like you would with WordPress. HubSpot takes care of all the updates behind the scenes! You don't have to maintain your server, either, since your website lives on a Content Delivery Network (CDN), and you don't have to worry about your site getting hacked and spammed, since there's built-in monitoring and threat detection.
HubSpot backs up your data on a consistent basis, and its security team monitors everything 24/7, 365 days a year. All data is encrypted, and you can even update your TLS level in HubSpot settings via the domains and URLs.
Site Speed
HubSpot is ranked one of the top CMS platforms, in terms of speed, when compared to WordPress, Squarespace, Weebly, and others.
HubSpot uses a global CDN to house all your image assets and files. With built-in image compression and lightning-quick responsiveness, your files will be optimized to load your website faster. HubSpot will minify your JavaScript and combine all your CSS files. HubSpot also caches pages and files on a server/browser level to ensure your content is delivered expeditiously.
Site speed is also a ranking factor when it comes to Google, and HubSpot is constantly updating its platform to achieve the best speeds possible.
Website performance monitoring tool Pingdom ranks HubSpot as one of the fastest CMS platforms, with the smallest page size.
---
"I think aside from raw features, one of the most compelling reasons for choosing the HubSpot CMS is the balance of simplicity and flexibility. Content creators get powerful tools that allow them to own that aspect building and maintaining a website, while developers get tools that allow them to focus on larger web development tasks behind the scenes instead of sinking tons of time into basic site maintenance. This dynamic is probably the most important aspect of any CMS, but the HubSpot CMS puts that unique HubSpot polish on it. I think this CMS really hits the sweet spot for both marketers and developers."
—Jeff Ausura, Professor, HubSpot Academy
---

Superb Support Team & Community
The HubSpot Support team, community, and learning academy is second to none compared to other CMS platforms.
The support team are always available 24/7 to answer any questions, and will go out of their way to find the perfect solution. Connect with support via chat, email, or phone.
There's also amazing community support in the forums, where you can find answers and connect with other HubSpot users, and utilize extensive documentation and training videos.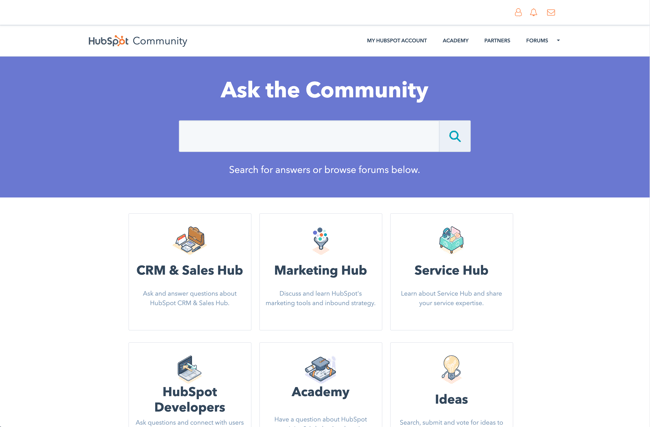 Screenshot of HubSpot Community Portal


---

Analytics, SEO, Content & Reporting Tools
SEO Tools
HubSpot's SEO tools facilitate smooth website optimization.
Plan your content strategy and organize your content in HubSpot using the topic cluster tool. It suggests subjects based on relevance and popularity, and integrates with Google Search Console for easy access to monthly search data. There's even a button that searches for related content.
Optimizing your site pages, landing pages, and blog posts are a breeze. HubSpot provides tips in real time, from the title tag to the meta description and image alt tags.
| | |
| --- | --- |
| Screenshot of Topic Cluster Tool in HubSpot | Screenshot of Optimization Tool in HubSpot |
Reporting Tools
HubSpot provides detailed reporting on all website pages, blog posts, and landing pages. From view count and form submissions to bounce rates and time on page, the performance tab supplies all the details you need to analyze and improve your pages.
Other CMS platforms require third-party options, such as Google Analytics, but that's not to say you shouldn't install it on top of HubSpot's reporting, for more insight.
Optimization and A/B tests can be performed as well, linking to Google Search Console.
The analytics tools within the reporting tab provide Traffic, Website, Campaign, and Contact Analytics.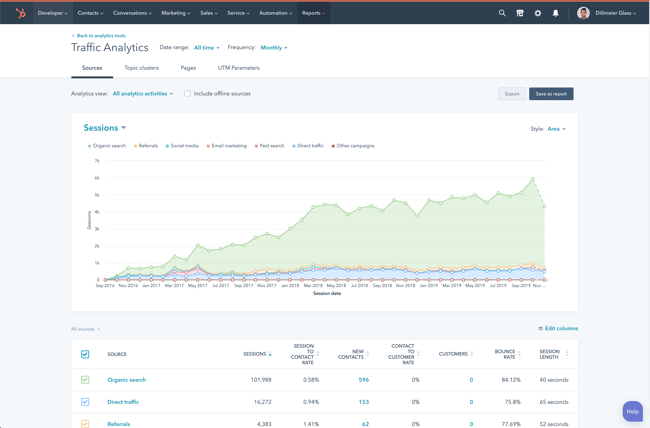 Screenshot of HubSpot Traffic Analytics Dashboard


---
There are many tools out there to grow your business, but HubSpot is the only platform to house all of them under one roof—with everything your team could ever need to be successful for your clients!
Originally published January 20, 2020. Updated May 7, 2020.