Choosing the Right CMS: What to Consider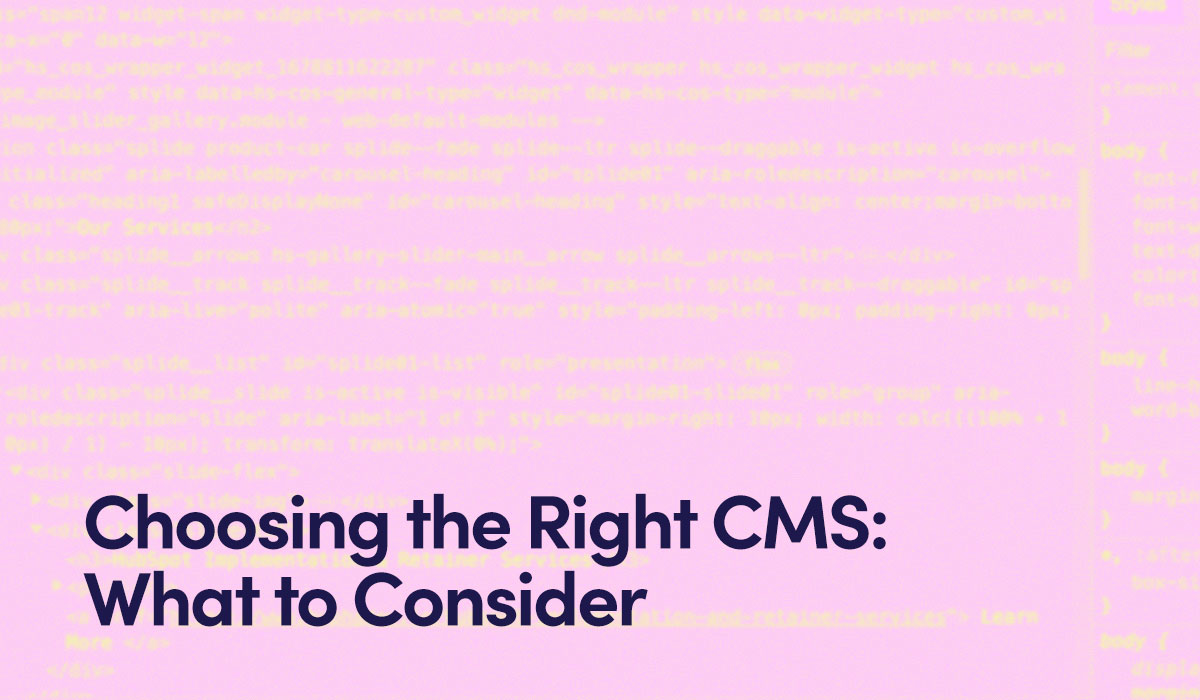 The Content Management System (CMS) is the backbone of your website, affecting everything from content creation and management to user experience and SEO performance. Choosing the right CMS isn't an easy decision: it must align with your business objectives, support your marketing efforts, and provide a seamless experience for both users and content managers—and, of course, fit within your organization's budget.
"Whether you're starting out with a small blog, building a shop or small website, or developing a portfolio for a client, you want to know that your CMS software will meet your team's needs now and in the future as you grow," says Jon Chim, VP of Design & Development for Hypha HubSpot Development.
However, not all platforms are created equal. To find the best software for your organization, it is crucial to understand how to compare various factors, such as basic functionality, integration options, and scalability.
Major Considerations When Selecting the Ideal CMS
Integration with Your Existing Stack
The ideal tech stack for any business has as few points of friction, vulnerability and redundancy as possible. When thinking about a CMS, consider how well it will integrate with the rest of your tech stack, including marketing automation platforms, customer relationship management (CRM) systems, analytics tools, and any other essential software.
A well-integrated CMS streamlines data synchronization, helps automate workflows, and enables a cohesive user experience across your entire digital ecosystem—all with the end goal of helping you to better understand your customers, and improve how you communicate with, and sell to them.
Customization Capabilities
Look for a CMS that provides an extensive array of customization options to align with your brand identity and specific business requirements. The ability to create unique templates, designs, and features ensures your website stands out from the crowd while delivering a tailored user experience. That's not to say that more is necessarily better: a CMS that's intuitive and easy to use is much more likely to be adopted by your team than one that requires a steep learning curve for all the bells and whistles.
Content Management & SEO
Assess content management features, such as content creation, editing, version control, and multi-user collaboration to help streamline content workflows, minimize errors, and facilitate efficient collaboration among team members.
It's also important to look for built-in search engine optimization (SEO) tools, such as customizable metadata, SEO-friendly URLs, XML sitemaps, and content analysis, to boost your search engine rankings.
As the demand for efficient content creation continues to grow, CMS providers are now exploring the potential of generative AI to enhance their systems. By incorporating AI technology, these providers can offer content creators valuable tools such as keyword suggestions, page optimization recommendations, and assistance with planning and outlining drafts. To fully understand the capabilities of these AI features, be sure to request a demo as part of your research.
User-Friendly Interface
An easily navigable user interface is crucial for empowering your content creators and marketing teams to efficiently manage and update content without extensive technical expertise. A simple and intuitive interface reduces the learning curve, enhances productivity, and encourages timely content updates.
The ideal CMS should be intuitive and easy to learn. Whether the core users are seasoned designers and developers, or people with no coding experience whatsoever, the CMS should help you create, modify and display your organization's content to the public in a way that is easy to view and engage with.
Scalability
Anticipating the future trajectory of an organization is a daunting task, which is why the potential for growth often becomes a catalyst for dissatisfaction with a CMS.
"One of the most common things we see with new clients who are looking to transition to HubSpot is that they've simply outgrown their existing CMS," says Chim. "At a certain point, issues like user management and permissioning become too difficult for growing teams. We also see companies struggling to adapt and gain the insights they need as they change or add different pieces to their tech stack—making it that much harder to follow a customer's journey from first contact, all the way through to the sale."
Consider your future growth and scalability needs by using a platform that can accommodate expansion and increased website traffic, while also supporting additional content and functionalities without sacrificing performance.
Analytics & Reporting
A data-driven approach is essential for optimizing your online presence. Choosing a software that integrates with your analytics and reporting tools can provide useful insights into website performance, user behavior, and content engagement.
By carefully evaluating these considerations, you can make an informed decision and select the best CMS that aligns with your business objectives, enhances your online presence, and sets the stage for long-term success.
Finding the Perfect CMS Solution for Your Business
There are dozens of CMS options available on the market, each boasting unique features and functionalities. It's important to understand your website's requirements, know what to look for in terms of features and capabilities, and consider the needs of your audience and team.
To help you navigate the competitive world of CMS options, we will explore four of the most popular offerings on the market: WordPress, Webflow, SquareSpace, and HubSpot.
WordPress
Best suited for small to medium-sized businesses, bloggers, and content-centric websites
WordPress powers more than 43 percent of websites globally, and is widely known for its versatility and extensive plugin ecosystem.
Its open-source nature and vast community of developers and users allow for limitless customization options, making it ideal for those seeking complete control over their website's design and functionality.
Used primarily by personal bloggers in its early days, WordPress is now the preferred choice for a diverse range of websites, encompassing professional publications, e-commerce, and more.
Content-rich websites, such as those specializing in news, online magazines, and educational programs, can benefit from WordPress' vast array of themes and plugins, facilitating a dynamic and interactive user experience.
While WordPress meets the needs of a wide range of users, managing updates, security, and performance optimization can become more challenging as businesses scale. That's especially true when you consider website specifications like your chosen themes, active plugins, web hosts, and more. It also comes with a steeper learning curve compared to competitors, particularly for non-technical users. With that in mind, some organizations elect to pay for training or hire a developer to get started.
However, WordPress continues to be a popular option for individuals who prioritize versatility, an intuitive interface, and the support of a large community.
Webflow
Best suited for designers, developers, creative agencies
Webflow is a visual-based software tailored for designers and developers who seek creative control without coding constraints.
This cloud-based, SaaS platform offers a user-friendly interface with intuitive drag-and-drop functionalities, making it easy to create stunning, responsive websites. Webflow can handle everything from fully custom layouts to complex animations, and more.
Creative agencies and freelance designers can utilize Webflow to showcase their portfolios or build custom websites for their clients. Its dynamic content management and integration capabilities cater to businesses that prioritize aesthetics and visually appealing experiences, with exceptional design features, including parallax scrolling, animations, and micro-interactions.
One of Webflow's greatest strengths lies in enabling seamless team collaboration and rapid website development. Its collaborative environment allows multiple teammates to work simultaneously on a project, with editors reviewing content while designers construct the site. This fluid process ensures efficient teamwork and empowers project managers to oversee projects with ease.
In addition to hosting your website directly on Webflow, it also gives users the ability to design the site on the platform then export the code to another server for even more customization options.
Despite the initial learning curve, Webflow provides an impressive level of design freedom, establishing itself as one of the industry's most advanced website building tools.
Squarespace
Best suited for small businesses, startups, e-commerce websites
SquareSpace is an all-in-one platform, combining website builder, hosting, and e-commerce capabilities. It provides a selection of elegant templates and a straightforward interface, making it ideal for small businesses with limited technical resources.
With its user-friendly interface and integrated hosting and e-commerce functionalities, SquareSpace is an excellent choice for entrepreneurs and small business owners looking to establish a professional online presence quickly.
With SquareSpace, you can effortlessly manage your products and process payments securely, making it a perfect choice for online stores. However, it may not provide the scalability and advanced marketing features needed for larger online businesses.
As a closed-source platform, some users find that they are limited in terms of customization options, but with its wide selection of elegant templates, you can create visually appealing websites and effectively manage your site seamlessly.
HubSpot
Best suited for B2B companies, inbound marketers, businesses prioritizing lead generation & sales growth
HubSpot's proprietary content management system is a powerhouse platform that can effortlessly integrate with its Marketing Hub, Sales Hub, and CRM software, to provide a comprehensive all-in-one solution for content management and inbound marketing strategies.
The seamless integration with Marketing Hub, for example, allows for personalized content delivery based on specific personas, ensuring a tailored experience for potential customers at every stage of the buyer's journey. When used in conjunction with HubSpot's CRM, the software facilitates lead tracking, customer engagement, and automated follow-ups. That means you can nurture leads more effectively and convert them into loyal customers.
By leveraging the powerful marketing automation features, businesses can also streamline repetitive tasks, such as email marketing, social media posting, and lead nurturing campaigns.
The robust SEO tools can improve website content for search engines, boosting organic visibility and driving more relevant traffic. Comprehensive analytics also provide invaluable insights into website performance, user behavior, and the effectiveness of marketing efforts.
HubSpot's CMS is designed with scalability and security in mind, making it a reliable choice for businesses of all sizes and industries, especially B2B.
From a design perspective, HubSpot provides a user-friendly drag-and-drop function for basic site building, as well as design tools for more complex site development.
As companies grow, the platform can easily accommodate increased website traffic and content demands without compromising website performance.
It may not be the most suitable choice for smaller businesses with limited marketing and sales needs, or those seeking a budget-friendly CMS solution, but if you're looking for a reliable platform to optimize your online presence, align your sales and marketing goals, and position your business for long-term growth and success, Hubspot is the solution for you.
Hypha Hubspot Development is a HubSpot partner agency that will work with you to assess your digital marketing strategy, produce and deliver personalized content that's sure to boost engagement and conversions, and enhance your digital presence, all using Hubspot's cutting-edge CMS platform.
Contact Hypha HubSpot Development today and harness the power of our all-in-one marketing and content management solution to maximize your marketing results.