10 Questions to Ask a Prospective Social Impact Reporting Partner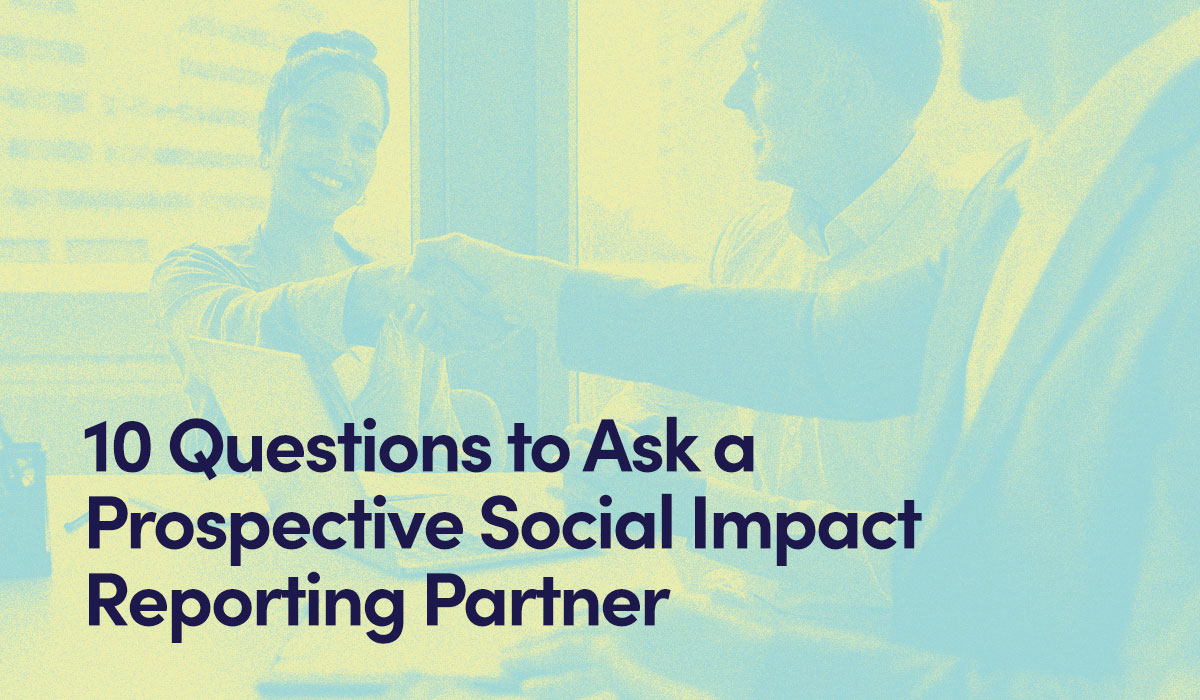 Social impact reporting has become increasingly important for companies to demonstrate their commitment to social responsibility and sustainability. However, developing an effective social impact report on your own can be challenging. This is where a social impact reporting partner can be invaluable.
If you're considering working with a social impact reporting provider, consider asking these 10 key questions to help identify the best fit for your organization.
1. What Services Do You Provide?
Your social impact report is a valuable expression of your business' brand, purpose, voice, goals, progress, and future intent. As such, it's essential to understand precisely what value-add services a potential reporting partner will provide.
Here are a few from the "must-have" category:
Exceptional project management to ensure your report timeline is optimized, communication is efficient, and report deliverables meet expectations.
Ability to deliver your report in your preferred format, such as a printable PDF with or without a landing page or microsite.
Strategic content creation that effectively delivers your messaging and resonates with your target audiences.
Engaging storytelling to bring your impact journey to life.
Modern design sensibilities adhering to best practices for discoverability, accessibility, and customer experience.

Content marketing capabilities (including SEO, blog, and email) to increase organic traffic

to the report page and serve as additional entry points to other site pages for conversion opportunities.
Access to quality domain hosting.
Access to quality reporting and analytics tools to measure performance.
2. Can You Provide Examples of Impact Reports You've Created?
Your social impact reporting partner should be experienced, with a track record of creating high-quality reports. Ask the prospective team to provide examples of previous reports they've created, including the metrics used, and impact demonstrated.
3. How Do You Measure Success?
The answer to this question depends on your reporting goals. For example, if your objectives are to increase awareness of your company's mission, boost engagement with stakeholders, or drive visitors to your website, these would form the basis of your success criteria.
Goals should be established early in the process and revolved around SMART criteria, which means they are:
Specific
Measurable
Achievable
Relevant
Time-bound
Once goals are established, the next steps in measuring success are:
Selecting relevant goal metrics that can be measured reliably.
Completing the report.
Collecting and analyzing relevant response data.
Comparing outputs and outcomes to those established for success at the front of the process.
4. What Is Your Report Creation Process?
Your report partner should have an established and specific process that includes a target completion date, interim milestones, and opportunities for review and discussion along the way.
At Hypha HubSpot Development, the

impact report creation process

takes approximately three to four months. It consists of:
Guided discovery (interviews and data collection)
Report creation (including review and revision cycles)
Creation and distribution of marketing and public relations collateral as appropriate
As mentioned above, reviews of engagement and conversion data, where relevant, would follow for a preset period.
5. How Much Work Will Creating an Impact Report Be for My Team?
Your report provider should make the process as seamless as possible for you and your team.
With a new partner, your greatest time commitment should be in the preliminary stages when you discuss your goals, impacts, voice, messaging, available data, and any report constraints. Most interviews with leadership and staff would also be conducted during this period to ensure the content team has the resources needed for report production. As the project progresses, your team's time commitment should decline.
Importantly, your overall time commitment should decrease significantly the following year as your report creators work from an established understanding of your brand and goals. In addition, logistics related to brand assets should be considerably easier if assets are held by your report partner from the previous year.
6. What Deliverables Do You Provide?
This will depend on the agreed scope of work and contract with your report partner. In most cases, drafts of report elements, such as the CEO's letter, annual impact highlights, and sample designs, should be provided to you periodically throughout the project timeline. Established deadlines should be agreed upon upfront and include enough time for review and any follow-up edits.
The report is the primary deliverable and could include several format options, such as a printable PDF, and include a landing page (for an existing website), or a separately hosted microsite. Other types of deliverable collateral could include a blog post, email sequence, press release, and limited social media posts.
At Hypha, we can provide all of these deliverables and more. We work hard to design the best format solutions and collateral for every client.
7. What Social Impact Frameworks Do You Use?
Your impact partner should be familiar with commonly accepted social impact reporting frameworks and be able to discuss the pros and cons of including them in your report.
Frequently used frameworks include low-complexity models, such as a causal chain shown below:
| Activity | Inputs | Outputs (what results) | Outcomes (ST outcomes) | Impact (LT outcomes) |
| --- | --- | --- | --- | --- |
| Training event | Trainer, curriculum, venue, etc. | Trained persons | Apply/use training | Better something |
Or, more complex approaches can be implemented, including the Theory of Change, the United Nations' Sustainable Development Goals, or the Five Dimensions of Impact.
8. How Do You Keep Pace With Best Practices?
There's no singular "right" answer to this question other than your impact partner should be doing something to stay on top of trends and developments in the impact reporting space. Here are a few approaches we like:
Review thought leadership publication content, such as the

Stanford Social Innovation Review

.
Attend relevant conferences and events, such as the

Social Capital Markets (SOCAP)

conference.
Join professional associations such as the

Global Impact Investing Network (GIIN)

or the

Social Impact Exchange (SIE)

for resources, networks, and learning opportunities.
Follow thought leaders and organizations on social media or subscribe to their blogs to stay informed about best practices and emerging trends.
Connect with peer organizations and share knowledge and best practices.
Participate in forums, attend webinars, and engage in social media groups to exchange insights and learn from others.
9. What Project Management Software Do You Use & File Types Can You Work With?
Your impact report partner should use reputable, easy-to-use project management (PM) software such as Asana, Monday, or Basecamp. PM platforms enable better organization, progress tracking, and accountability. They also enable more efficient communication and collaboration between team members.
If you're unfamiliar with your report partner's project management platform, they should provide any support you and your team require to use it productively.
File formats should not be a stumbling block for your report partner. Regardless of what file formats your company uses, your partner should be able to use or convert them to more accessible formats.
10. How Does Your Pricing Work?
Pricing is an important consideration when evaluating social impact reporting partners. Ask every prospective partner about their pricing structure, including what services are provided.
At Hypha, we offer a tiered pricing model based on the level of service delivery:
Tier 1: Printable PDF Report
Major elements typically include a leadership letter, company overview, impact highlights, case studies, stakeholder narratives, future goals, and adverse circumstances.
Tier 2: Tier 1 Collateral + Landing Page or Microsite
A landing page or microsite is included to maximize engagement through added copy (including keywords), infographics, images, videos, stories, and more. It would consist of highlights from the report, a call-to-action (CTA) to access it, and the report PDF.
Tier 3: Tier 2 Collateral + Content Strategy & Distribution
Content strategy and execution are designed to drive traffic, engagement, and conversions and include blogs, email sequences, and other elements, including press release creation and distribution and limited social media (LinkedIn).
Consider Hypha HubSpot Development for Your Social Impact Reporting Journey
At Hypha HubSpot Development, we help companies like yours tell your unique social impact story, even if you're just beginning your reporting journey.
We're content and marketing experts who can deliver a compelling impact narrative that clarifies your message, amplifies your mission, and empowers customers, investors, and talent to better engage with your brand.
Learn more about how we can help deliver the social impact report of your dreams.