SEO & Content Marketing In the Age of AI: What You Need to Know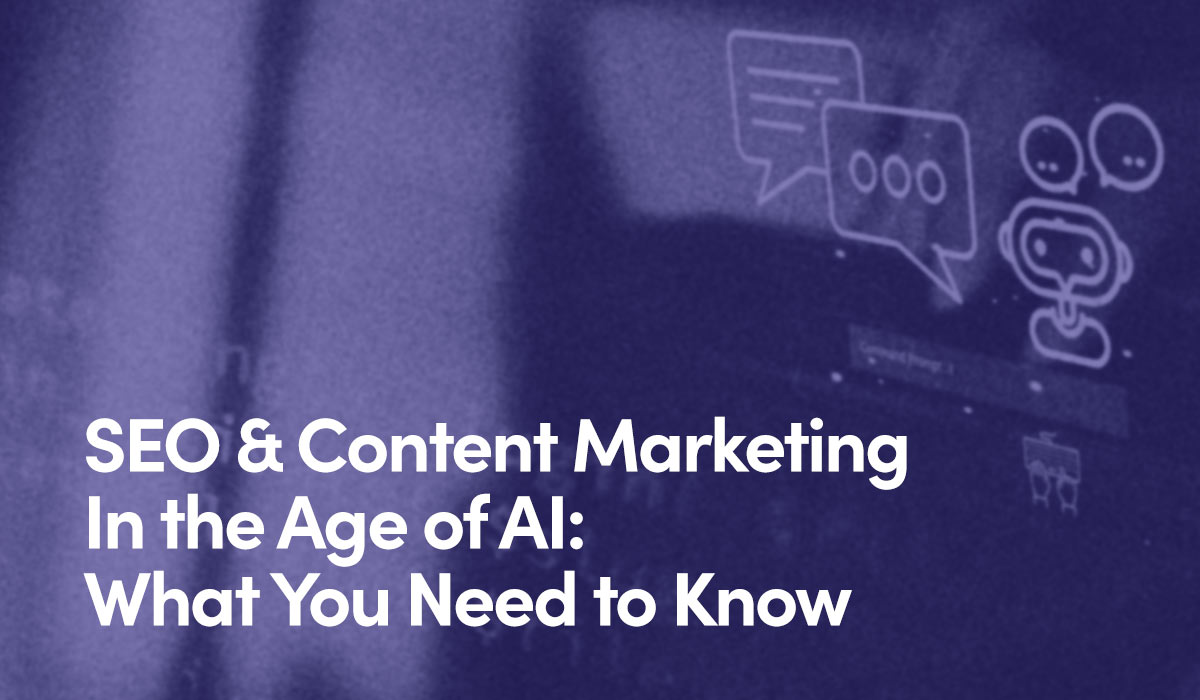 In 2023, the worlds of SEO and Content Marketing have experienced significant upheaval due to a number of factors:
The rise of generative AI tools such as ChatGPT increases content production (and competition for attention)
The shift toward "zero-click" search for answers to basic questions reduces the efficacy of traditional FAQ-style content as a traffic source because users can now get detailed answers without leaving the results page
Generative AI gets embedded in search engines, speeding up this shift, and further changing the relationship between user and site, and the nature of the buyer's journey
Further changes to Google's algorithm erode the ranking ability of sites with specific structured data markups
What Does This Mean for Content Marketing?
Content marketing is evolving as a discipline before our eyes. At Hypha, we've spent a lot of time this year thinking deeply about these changes, reading and talking to industry experts, and testing our hypotheses wherever possible, from client campaigns to our own blog and social publishing calendars.
With all that in mind, here is how we see the future:
SEO
As a discipline, SEO's role for marketers is shifting. The days of generating leads from a true organic search appear to be dwindling as SERPs focus on providing a simpler, one-stop user experience powered by generative AI. However, the need to produce content that defines and displays expertise in a given field remains crucial—both for helping SERPs to serve your site to the exact users who need your products and services, and as part of a cohesive content strategy.
Put simply: SEO is changing, but not dying (as far as we can tell). We fully expect Google to remain the world's preeminent tool for discovering everything from vacation tips to the solution to your most pressing business problems. This means the search engine will still need content to draw from and sites to send searchers who aren't looking for an answer that an AI can provide in a couple of paragraphs (like your aforementioned business solution).
Shift from "inbound" to "all around" digital marketing
As a HubSpot Partner Agency, we are all-in on the Inbound methodology because it's the most efficient way to generate quality leads in the digital space. However, in the new search environment, the early touchpoints on the B2B customer journey are less likely to be through your site's blog or knowledgebase, and more likely to come through a potential lead interacting with an ad, article, social post, video or other piece of content somewhere else online.
With this in mind, a content strategy that focuses on more than just "magnets" is imperative in this new environment—businesses should meet their customers where they congregate professionally online, whether that's in trade publications, LinkedIn, or elsewhere.
Serve different content to different markets
The key to meeting users in those different areas is to understand what they are looking for in each space. LinkedIn users are typically seeking broader thought leadership, while trade publication readers may prefer to learn about relevant trends or developments. It's important to understand that your site still needs to speak to Google (not to mention Generative AI tools), as well as the various personas you will be targeting. The winners in this environment will not be the companies and brands that produce the most content, but those that produce the most relevant and engaging information for their audience in the place they expect to find it.
Use AI with caution
There has been no shortage of issues related to incorrect information and "hallucinations" delivered by generative AI tools.
That's no surprise: As SparkToro founder Rand Fishkin explained in a recent video on the impact of LLMs on SEO, these tools aren't built to write perfectly-cited articles based on a summary of all the information in the known universe; rather, they function by predicting the next most likely words and phrases based on hugely complex relational databases of content.
While that can give us content that looks like it's highly authoritative, there's no ingrained understanding or expertise behind it. In short, the output is essentially the result of a math formula.
That doesn't mean that content producers should shy away from generative AI altogether. At Hypha, we recently launched an AI transparency statement, noting that, while we encourage our team to use tools such as ChatGPT and HubSpot's ChatSpot AI solution, we never publish anything without human review and editing.
Amplify Your Content
With social sharing becoming more important in this new environment, it's critical that organizations develop amplification strategies. Simply posting an article on LinkedIn, or writing one for a trade publication, won't move the needle unless it is shared with relevant audiences through likes, reposts, tagging specific contacts, and even email outreach.
For our team, this is where generative AI tools truly come into their own. While they should never be used as a primary source of research, their ability to repurpose existing content for a variety of audiences and formats is a genuine productivity hack—and one that can help amplify a single piece of content's reach across a multitude of platforms with just a few instructions.
What's Next For Digital Marketing?
If the past year has taught us anything, it's that the pace of change in this industry is only increasing—and marketers are constantly pivoting to find an edge in this ever-changing reality.
We fully expect the landscape to shift in new and exciting ways in the months and years ahead. With Google and Microsoft both testing AI solutions directly on their search engines, it's clear that the SEO landscape will look quite different, with "top of the funnel" searchers not needing to navigate a curation of links to find desirable answers.
That portends a shifting role for websites: If you no longer need to set hooks to attract low-intent searchers with the hope of nurturing them through your funnel, your site can focus more on speaking to your true expertise, and on closing the sale.
After all, in this new environment, the people who do find your site will already be primed to buy—they'll be sufficiently brand-aware, having encountered your content in places where they're ready to be receptive to it. And, at worst, they'll be at the consideration stage of the buyer's journey, if not the decision step, because they've already defined their problem and are actively looking for solutions.
Of course, there will be any number of tricks, tips and tactics that emerge out of this current period of flux that marketers will swear will drive more traffic, boost your pipeline, and help close more sales. And some of them may well be right.
But from where we sit, the same rules apply in this new reality as the old one: quality content rules the roost. Relationships and authenticity drive sales. Meeting one potential customer at exactly the right time on their journey is more important than attracting thousands of irrelevant site visitors.
The landscape may have changed, but the challenge remains the same: We have a bunch of shiny new tools to help us navigate our new reality, we just need to weaponize them in ways that make sense and help attract the right audience.
Hypha Development is a New York-based HubSpot Partner Agency specializing in engineering Inbound Marketing & Strategic Content solutions to get you more customers, convert more leads, and help you achieve sustainable growth. Contact our team today!